My eyes open, and I am amazed, not only being alive, but actually feeling rested. I was later informed that my snoring kept the big bruisers away. My apologies, Will. Unzipping our tent, I am greeted with crisp salty air dragging a spattering of clouds across a faint blue sky. A slight breeze stirs the tall grass as I relieve myself in the middle of nowhere. Breakfast should consist of jet-boiled coffee, and breaking camp, as the anxiety of what today might bring, provides motivation. None of us seem to be breakfast people, because I don't recall having any coffee, and James was landing fish while I stuffed my sleeping bag into a really small sack. No relaxing or sitting still, there are fish to catch and bears to bark at. If we are up, then so are the bears. Securing the last strap on my gear, I step up river and begin my fishing day. After each of us land a fish, I reel in my line and slosh back to camp eager to get going.
"HEY BEAR," yells will, as I turn around and lock eyes with a massive brown blob scampering across the river twenty yards from where I just landed a Silver Salmon. Caffeine is great, but try starting your day with that!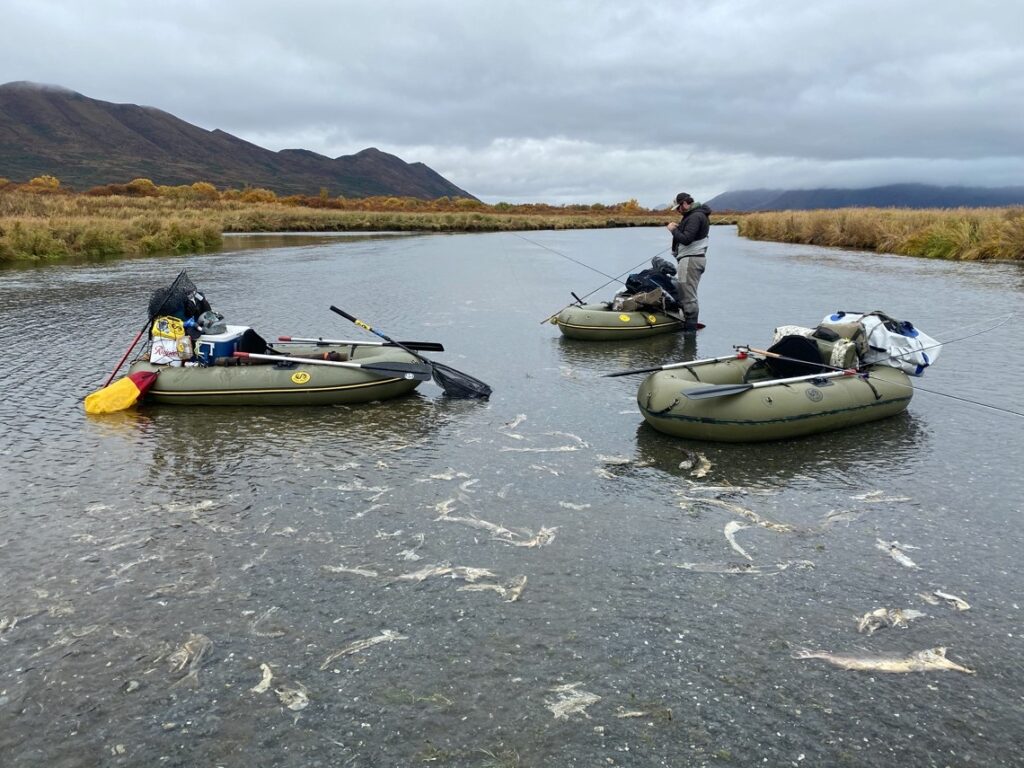 We scrape our loaded boats across rotting carcasses until our buoyancy merges with current and bids us farewell to our first camp. The shock from the bear quickly exits as the first bend gives way to nonstop fishing fun. Fortunately, we only have twenty-two miles to cover because around each bend and every stop thereafter, the fishing continues to be better than I have ever experienced. As we creep closer towards the ocean, the landscape flattens, forcing the river to settled down, widen, and become extremely shallow. As I drag my boat down river, I am passed by hundreds of Silver Salmon skating their way up river heading to the lake. It was a traffic jam of fish; I could reach out and scoop them up with my bare hands. I came to this place solely to experience this very thing; to see nature perform in its purest state. The reality begins to surge through me, and I am overwhelmed with how fortunate I am to be part of this magic. This seems all too unapproachable by humans.
This nature stuff is spectacular, but with every glance at the sky, I see weather toying with us. I don't know how to gauge it. Off to my left I see deep blue sky mixed with some non-threatening pillow-like clouds. Looking right, darkness descends and mischief hovers on the horizon. You can never relax. Are we about to get pounded by rain or not? Where exactly did I put my rain coat?
Weather concerns evaporate instantly, as two mature bears cross the river and work their way towards us on the opposite bank. They aren't fishing, nor foraging. These two are covering ground and exhibiting body language that is new to me. All three of us are on edge.
"Get out of here," barks James. "We see you."
"Whoa bear," yells Will waving a large net above his head. I blew on my whistle and took some video. They are so magnificent. It is extremely odd to be fascinated by your fears. As in every bear I have come across, I could sit and watch them all day, just so they scamper away in the end. These two seem to be on a mission and not too concerned about us. Once they were directly across river, and seemed tired of our squawking, they thumb their nose at us and wander into the brush giving us our space. Ghosts vanishing into the bush.
"They didn't seem to scared of us," I said
"No, they didn't, did they," added Will.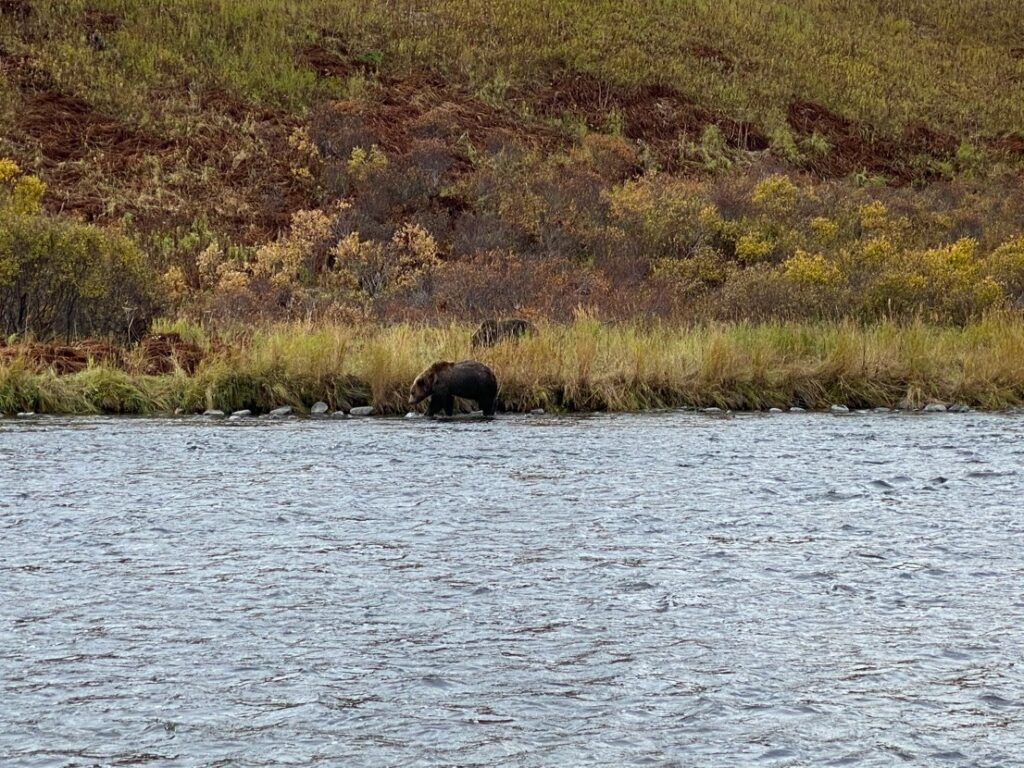 "A couple big boys though, eh?" James commented stripping line off his reel focusing on the water in front of him.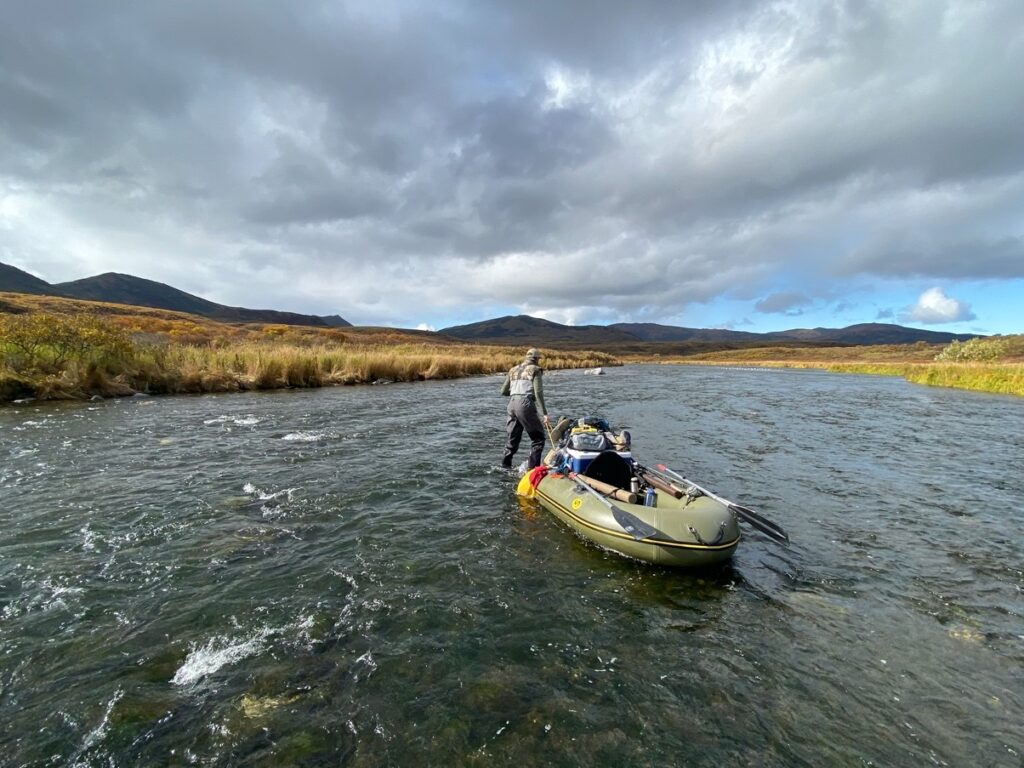 This was the rhythm of the day. Yelling at things that could eat us, followed by tremendous fishing, capped by ominous weather. For now, the sun fought the storm, leaving us comfortable and grateful for solar warmth during early fall in Alaska.
This place has such a threatening edge to it, especially when you're in it 24 hours a day. Every time I landed a fish I wanted to sit down and take a few minutes relishing the moment. The problem is, I don't want to be anywhere near the bank or too far from my buddies, so I either pick up a net, film something, or get back to fishing. There is always something to do to keep your mind occupied, but the weather and the bears kept lurking around every corner, whispering reminders not to have too much fun.
The river shallowed dramatically forcing us to exit our boats and slosh our way down river with watercraft in tow. The entire river for two miles was ankle deep. Fortunately, there were no bears, and the boats floated freely as long as we weren't in them. Unfortunately, we had to slip and stumble over rotting carcasses for two miles. Next time I am bringing spikes for my boots. I'm slipping on everything, this sucks. Finally, we exit the shallow hell catching a bit of current sweeping us around a blind corner only to find two structures towering above the tall grass. We inquired about these forest service cabins prior to our departure, and decided our lives were not worth $800 a night. Instead, pitching our tents on matted down bear beds, littered with fish carcasses, seemed much more sensible. Again, glad I have a tent mate with a gun because my snoring can be inconsistent, and the wind is starting to howl.
We negotiate fishing holes with several bears over the next half mile as the river deepens and the fishing accelerates. In the midst of one of my back casts, I hear a commotion and turn to see Will being dragged down river by a fish. I slip and slide closer struggling to capture James netting a massive Dolly Varden. This was a gorgeous specimen. This fish was thick, mature, and brightly lit up. It ended up being the nicest Dolly Varden caught all week, and I am so fortunate to have been there with him, and have taken the video. Maybe twenty minutes later, Will skillfully netted James' Steelhead and my Silver Salmon adding to an already glorious day. Glorious, in that I am still alive, catching fish of a lifetime, and I don't think it's even lunchtime yet.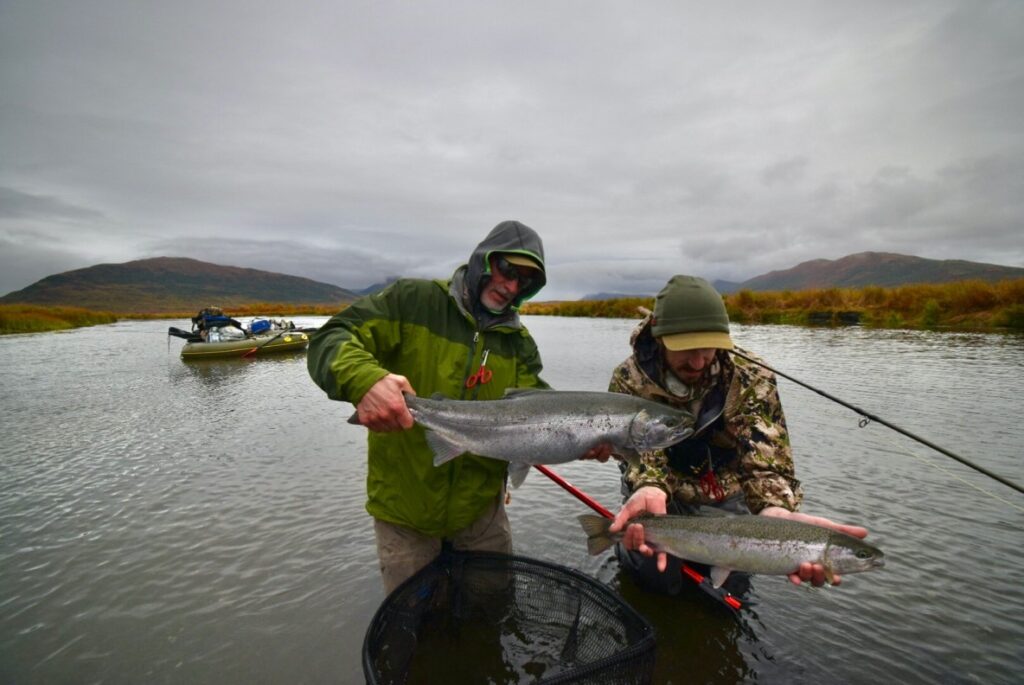 The weather danced around us all day trying to be tough, but never really bit as loud as it barked. Jackets came off, and then jackets went back on. Typical Alaska; you're never comfortable. At least the relentless bugs are gone. Thank goodness the bugs are gone. As the sun valiantly peaks through the web of clouds, the fishing continues to be ridiculous. We beach the boats on a small, low-cut grassy island and decide to have some lunch. Cheese and crackers, sprinkled with trail mix, was Michelin star quality, as is everything when you're in the middle of nowhere. This moment is precious, it allows me the opportunity to recharge my body, and spend a few moments digesting this experience with my buddies. I think I even cracked a smile. It has been nerve-racking nonstop fun since I crawled out of my tent this morning.
Conversations over fabulous fish, gigantic bears, and how awesome this apple tastes, reminds us that we need to find a place to settle down. Our Maps indicate a limited number of places to legally camp so we need to find a suitable place soon regardless of the time. After several bends, we chose to walk up a small bank and pitch our tents above the river on a gorgeous meadow providing a 360-degree view.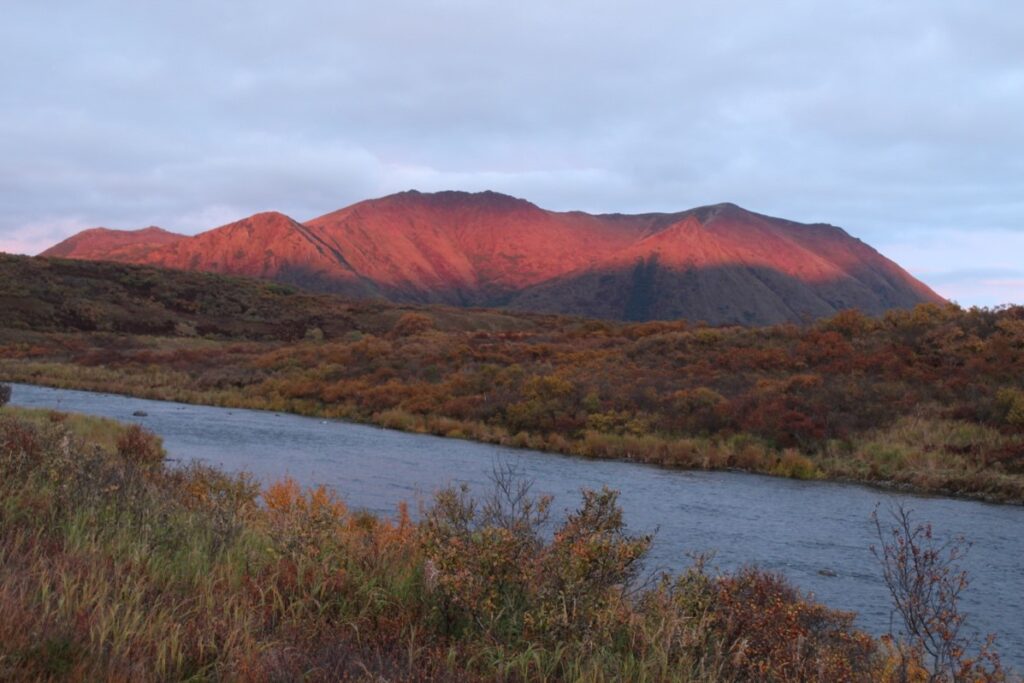 Unable to have a fire (there was nothing to burn) we play music, boil twice filtered salmon water for our dinners in a bag, and watch the big screen in front of us. Alaska rewarded us for putting up with it all day. A full day of wrestling fish combined with full emotional swings creates an appetite, and as I shovel freeze-dried food in my mouth, I realize I need to go to the bathroom. Not that I haven't done this in the wild before, but again this is Kodiak island. Naturally, I hold out as long as possible, but nature does call. Off I go with bear spray, man wipes, my buddies' gun, and a shovel. I walk for what seems like miles and pick a spot. Surveying the location, I look through the brush and see our tent.
"Dam, too close, but yet so far away," I muttered discouraged. "I need a bathroom buddy."
It might have been a world record in taking care of business, because I was back at camp before they realized I was gone. The darkness swallowed our good cheer and exhaustion forced us out of waders and into our tents. Our day ended with a bear rambling through camp moments after I was trapped in my sleeping bag, dry and warm. Good night Alaska!
Will didn't have to worry about me snoring, because after four hours of restless sleep, I could feel the top of our tent scraping my face. 40 mph winds carrying moisture ripped through our tent, soaking our gear, and stretching the limits of our spirits.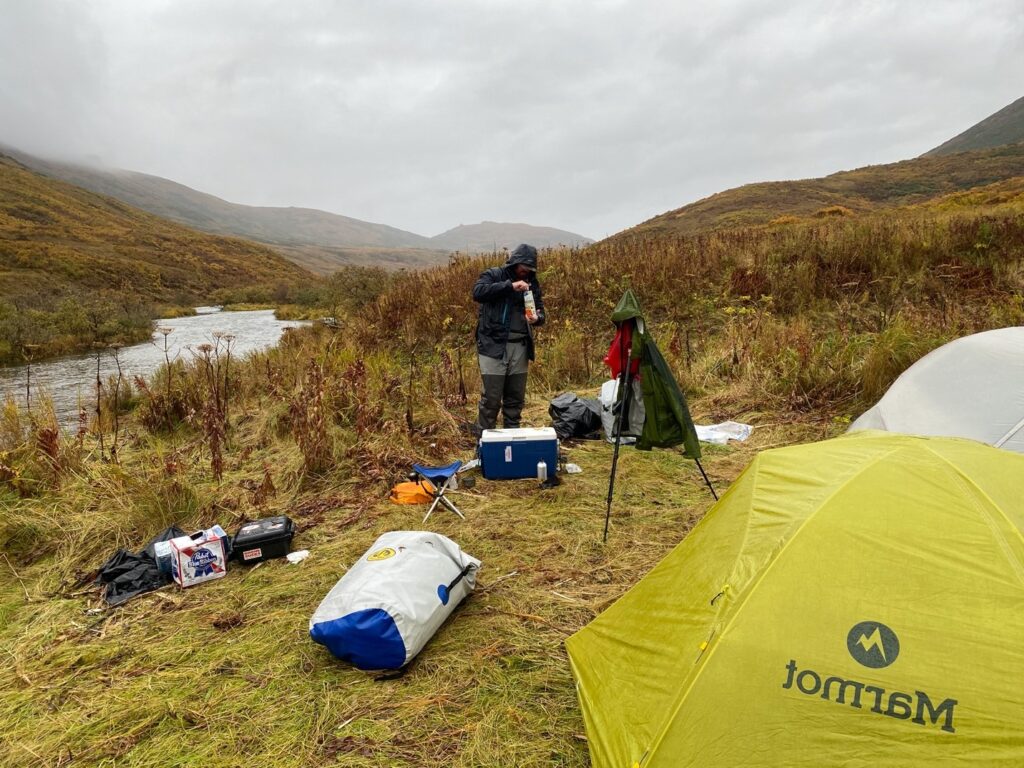 After hours of fighting the tent, I slipped from my slipping bag crawled into my freezing cold waders, and stepped into a wet chaotic mess. Everything was soaking wet. The wind was howling, slapping blankets of water across our camp. There was to be no "Good morning, how did you sleep?" Followed by warm oatmeal and precious hot coffee. Anything and everything needs to be packed as fast we can. Will and I meticulously keep our essentials dry as we gang up on our gear securing it to our Water Masters faster than it would have taken me to whip up some coffee. Feeling quite proud of ourselves we look around to find James already packed and fishing. I'm cold, wet, and now a bit discouraged looking into what today has to offer. As I watch James land a fish, and Will walking out to join him, I put my pouting aside and grab my soaking wet rod. Life is tough when there is nothing else to do but fish. Slipping my way across a knee- deep rock shelf, I strip line from my reel and make a half-hearted cast. My attention is diverted as I notice water seeping through my cuffs and running down my forearm. As I am adding this to my list of gripes, my line tightens and something is trying to steal my rod from me.
You have got to be kidding me," I utter spraying mist with every word. I love this place. Once again, for everything harsh and difficult Alaska throws at you, something rewarding is always given to the opportunist.
"Hey Will, do you have a camera handy?" I yelled. "It's a Steelhead."
"Nice, dude. Absolutely, on my way." Will shouted grabbing the net.
Now, I came here to fish, and wanted to catch a Silver Salmon on the fly, but our overall mission was to catch wild and untouched Steelhead. We all took time in sharing each one of our Steelhead, understanding how special these fish are. Fishing is the experience shared amongst the people you want to be with, and these fish make that exchange even more special.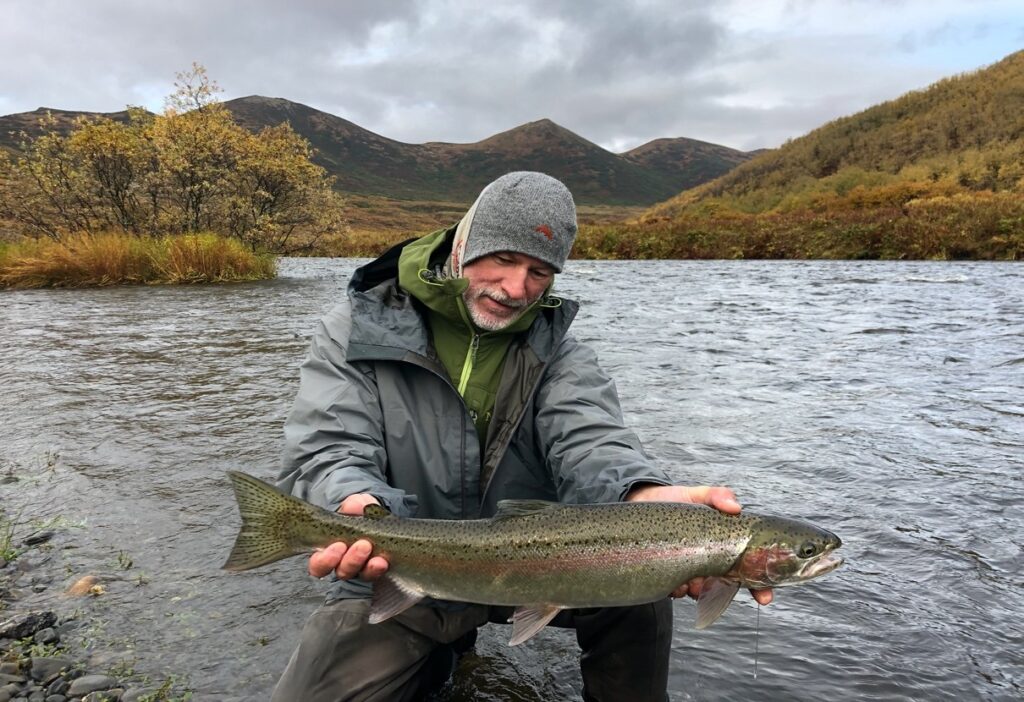 The rain continued its presence all day without making things unbearable. The little bit of rain was causing the river to rise slightly and triggering migrating fish to move forward. We began to see more and more steelhead in the river system. When the rain intensified, we hunkered down and skipped some water. When the wind and rain let off the gas pedal, we stopped and fished.
Fish on," yells Will, as James releases a fish and grabs the net.
I park my boat and begin filming as James stampedes towards us with net in hand. I took four separate, five minute videos of James chasing Will's Steelhead around with the net. With victory in hand, we celebrated what would turn out to be the nicest steelhead caught this week. This is ultimately what we came here for, and it was incredibly rewarding to find these fish after all this effort. I haven't landed very many steelhead in my day, so I feel very blessed to see these fish in such an incredible place. We have endured the elements, traveled the miles, and found our fortune. To me that is why these fish are so addicting. They are tough, rugged, wild, and you have to be the same in order to experience their world.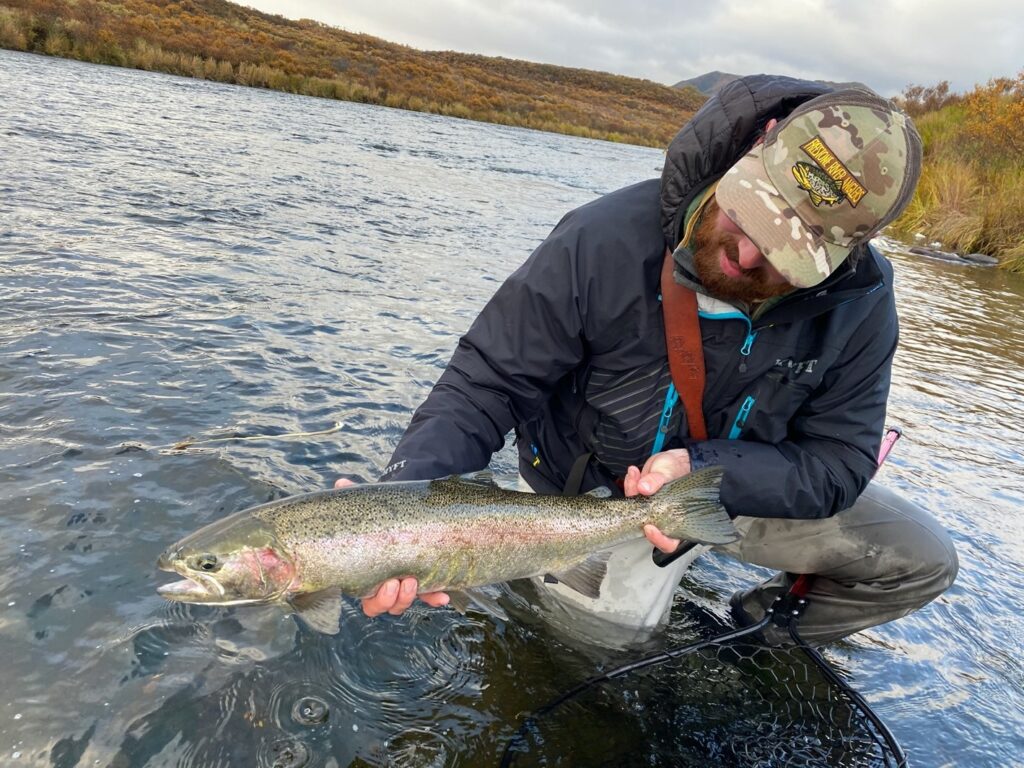 "Around the next bend we can camp," breaks the silence. "It looks like we are about to get hammered again boys," James remarks bringing reality back. With limited options we find a beautiful grassy bank littered with half-eaten salmon carcasses. Perfect! We set up a wet tent in wet weather and struggle to find sense in even eating dinner. As James is boiling water under his vestibule, Will and I shovel down semi warm and wet lasagna out of a bag. We hastily clean up and while dragging the cooler and garbage away from camp, we hear a couple "Whoofs running through our camp.
"HEY BEAR, get out of here!" yelled James exiting his tent waving his headlamp.
"Holy shit that was scary," I said fumbling for my bear spray. I didn't even see this massive blob run twenty yards away from. I'm glad he didn't trip over out tent. Prior to this event, I was going to explain how I learned a valuable lesson in bringing your own tent. As nice as it is to have a partner with a .44 mag close by, it leaves no room for things like; snoring, farting, spreading out, drying clothes, etc. Now, I am back on board with the buddy system. Somehow, I think we all managed a few hours of sleep as the wind slapped water on us all night. Our tent leaked, leaving whoever was on the downhill side in a pool of water. One more night to get through and hopefully only one more bathroom break. At least there are no bugs. Can't wait for tomorrow.
Jeremie Loble
Jeremie Loble is head of production Water Master Rafts in Stevensville, MT. He has been building rafts since 2000. He is a graduate from the University of Montana with a bachelor's degree in Business Management. He divides his time between his addiction to fish, and raising his two daughters. Born and raised in Montana, Jeremie has devoted over forty years towards angling, hunting, and conservation. His goals each angling season include: fishing a new body of water, catching a new species, putting in more angling days than the previous year, and most importantly, go fishing with someone new.