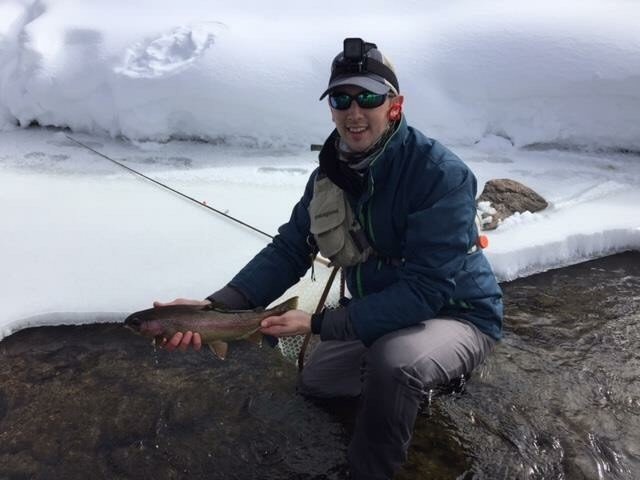 When people think about heading to Colorado during the winter months, they think of the deep fluffy powder they will be making turns in.  Never mind standing waist deep in a freezing river hoping to get a bite.  Luckily for me I get to enjoy both out there.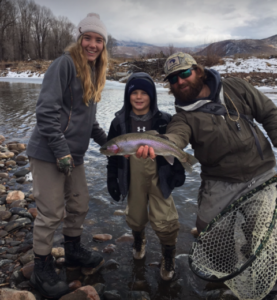 For the past 3 years I've been going out to Colorado to visits my brother, Tim. Tim lives in Breckenridge where he works as a chef for a mountain side restaurant. The main goal of the trip is to enjoy the great skiing Colorado has.  As a bonus, I get to take part the great fishing it has to offer as well. Breckenridge is relatively close to many of Colorado's famous tailwater fisheries.
Before my dad and I make our annual trip to visit him, we discuss where we'd like to fish while out there. In the past we have fished the Blue River and the Dream Stream section of the South Platte River.
About a month before our departure, my dad received the newest issue of American Angler. In it happen to be an article about some of the west's best ski areas and their local trout streams. In the article was a section on Steamboat Springs.  After looking at a map, Steamboat was only a two-hour drive through the Rockies from our base camp.  I got in touch with Steamboat Flyfisher, who was featured in the article, to set up a guided trip with them that Wednesday.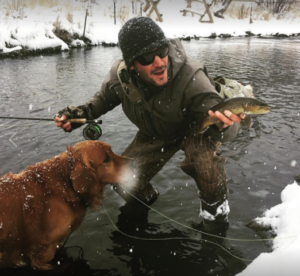 As Wednesday arrived, we started the day with a good breakfast and hit the road around 7:30am. We began driving along the Green Mountain Reservoir keeping our eyes peeled for elk and mule deer. After passing through the town of Kremlin, we started the climb up through Muddy Pass where we got our first sight of Steamboat Springs.
We arrived at the Steamboat Flyfishers shop around 9:30am. After we checked in, we geared up with Paul Russel and Keith Hale, our guides for the day and headed out to the river. As we got to the parking lot, I noticed some snowmobiles being warmed up. We used these for the final leg to get to our destination. Thankfully the weather cooperated for us where it was in the mid 40's sunny and no wind.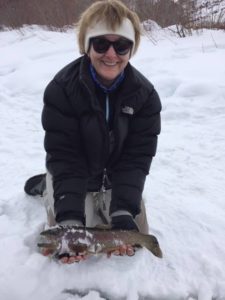 Once we arrived at the river, we split up into two groups.  I fished with my aunt for the day while my dad fished with my brother.  My aunt and I started in a big pool about 100 yards below where we parked.  We both had a few bites, but failed to connect. Keith and my aunt went up stream to fish the bridge pool while I stayed to fish the head of this pool.  After a few drifts, I hooked onto a big rainbow. The fish took me up and down the pool a few times before it broke off. As I sat there in disbelief, I had a feeling it was going to be one of those days where it be tough keeping the fish on. That didn't seem to be the case for the rest in the party.
We all motivated up stream to a stretch that had some long deep runs. We moved along slowly and spotted some nice fish. I set up above my aunt working a small run. By the time she hooked and released three nice Browns, I finally had a nice Rainbow on the line that came off after a hard-quick run down stream. As I let the pool rest for a few minutes, I told myself to stay positive, Rainbow in the net.
More of the same continued as the day went on. I continued to struggle getting fish to stay on as the others in the group were putting all kinds of fish in the nets. As the day was coming to an end we made our way back to the pool we started at. Just as I got there I was startled by a loud scream from my aunt as she landed a beautiful male Rainbow.
I went back to fishing and after a few drifts I came tight to a big fish. As it ran up stream, it decided to leap out of the water and give me a kiss good bye as the hook popped out. It seemed to be a fitting end to my day in the water.  As the rest finished up, we met back at the snowmobile where we made the short ride back to the cars.  The guides were pretty pumped after they received some of our family's maple syrup as part of their tip.
On the ride back to Breck, we all reflected on the day that we had.  It's a reminder that fly fishing is more that just catching fish.  It was great seeing my brother and aunt who aren't die hard fishermen have success and they made sure I knew how well they did.  As frustrating as it was for me out on the water, I still had a great time out there exploring new water.   It was an experience I will never forget and hope to get back out there again to get some redemption.
https://www.americanangler.com/