Two decades ago, I exchanged my bar rag for a chance to manage a small crew at a local manufacturing business known as "Water Master." A packable, one-man raft, light enough to check on any commercial flight, or better yet, a bush plane. Water Master rafts were being manufactured locally before I started (the Grizzly Model), but as anglers, we wanted more. Within that first year, we created our most coveted product to date, the "Kodiak Raft," and after building my first Kodiak raft, I've dreamt of packing it to Kodiak Island amongst Kodiak bears. Alaska is addicting, and has offered me unforgettable moments, but this particular endeavor has formed an itch I must scratch. Drawing inspiration from the "Trout Bums" and more recently, our friends from "Intents Media," who search the corners of our globe for unprecedented adventure, or perhaps, seeds were planted eating Cheerios in front of Mutual of Omaha's "Wild Kingdom." Regardless, I've craved an adventure of this magnitude. Three friends, five days, landing on a remote lake exploring a section of river nobody sees. An opportunity to wrestle, wild, untouched fish in one of the most unforgiving environments void of help, comfort, and rescue. I'm in. Whether following my father into the back country of Montana, or my brother through countless hours of flowing current, camping and floating has created my most cherished moments. Sharing relationships and experiences on the water, is what angling is about, it produces unbreakable bonds.
With the age of fifty simmering inside of me, this should happen sooner than later, even in the midst of a world pandemic. Three years of talking has produced only talk. We need to get this done before I'm too old. The expedition was dealt a blow when our spearhead cancelled due to last minute commitments, but James Still (from Anchorage), Will Fleming (from North Carolina), and I vowed to press on. The remaining weeks were spent packing, e-mailing, texting, and zooming our way into crashing on James' apartment floor in Anchorage, September 23rd.
I don't recall sleeping, and in somewhat of a stupor, we pack our gear into two vans, and yawn our way in silence back to the airport in the dark. When I talk about hauling gear, I want to stress the fact that we had gear. Three Rafts, tents, sleeping bags, fishing rods, food, and even nets. Plus, an array of lightweight gear all designed to get us through Alaska's harshest conditions. All of which took three guys, three trips every time this stuff needed to be moved. Our flight into Kodiak Island was just short of an hour, and every seat was full of camo. Rifle season was on, and I felt wimpy carrying a fly rod. My wait through security was entertained by a brief interaction with a hunter inquiring about the rafts strapped to our backs, followed by a conveyer belt of heavily scrutinized firearms, including the two 44's we brought. Not enough locks on this one, too many on this one, these locks don't pass. Unlocking, and locking, back in line you go. Organized chaos amongst a bunch of amped up outdoorsman. I knew I was going somewhere cool. I had goose bumps.
The descent into the bush was still twenty-four hours away, allowing us to dump our gear in a room overlooking the harbor. It was wet out. We labored through the streets of Kodiak, as the rain, smacking us sideways, increased our pace in search of supplies with our hoods drawn tight.
"Maybe we should have gotten a cab?" I thought avoiding a puddle. Oh well, the journey dispensed much needed conversation fulfilling a three-year gap, more importantly, I need bear Spray and Jet-Boil fuel. A grocery store visit yielded some perishables greatly enhancing our freeze-dried experience, and we were set. I was ecstatic carrying groceries in the rain. I was hoping this weather clears. Until now, the stress of planning and travel has really hindered my enthusiasm, but every step taken sheds light upon this dream. I am actually wrapping my head around being on Kodiak Island, scheduled to land on a remote lake where upon surviving for five days, we will be rescued by plane. All dependent on the weather, and the bears of course. Oh, yah the bears. They are a haunting storm spiraling towards me. The inevitable is coming. How bad will it hit us? I've spent half my life reading about people doing this, watching people do this, and now it's my chance to go wild. I've hungered for this challenge; to be on the edge facing uncontrollable circumstances not knowing what's out there. Little did I know what I was getting into.
Watching crab boats negotiating the wind and the wooden slabs they are tethered to; we share a final feast of fisherman's pie packing on vital calories. We talk gear, shuffle tactics, and face-time our families, passing the time convincing ourselves we brought enough stuff. One more sleep. It felt like Christmas eve.
After restless sleep, followed by a slight over indulgence of the continental breakfast, we make the three trips transferring gear from room to shuttle van. Yesterday's diagonal rain has succumbed to skies entangled with pillows of white trying to consume the few pockets of blue. It smells of the sea. We ride to "Island air Aviation" in quiet bliss. We're close, but not there yet. Clearer skies mean a better chance we fly into the bush today. All this time, money, and effort boils down to this one, eight-hour window. Our driver puts the van in park and walks us into the main hub of bush flights going anywhere on Kodiak Island. I was immediately drawn to the large glass window behind the desk showing a half dozen sea planes anchored to a long t-shaped dock, one of which was idling. Boots resting on the window sill, coffee mug in hand, sat what looked to be one of the pilots on duty today. A young man, early thirties, hip boots, wool cap above the ears, and camo hoodie. He looks the part. After a few handshakes and the most important question,
"Where are you from," (I got a solid head nod being from Montana) we asked about the bears.
"I just brought I guy back from Karluk." He said still sizing us up.
"Oh yeah, how was the fishing?" I guess that is a natural response for fisherman. We have tunnel vision.
"He said it was good, but he saw forty bears," the pilot handed over this information as if it was today's weather.
"No shit?" I think we ask. Or at least I did. Not sure if that is an actual question.
"No shit for real," he affirmed refilling his mug.
I knew we were on Kodiak island, where one bear exists per square mile, and knew we would see some, but this is disturbing. Especially when my native Alaskan mate chimes in with,
"That's a lot of bears boys!"
Forty bears, really? Until now I was wondering if I brought the right jacket. Where did I put my bear spray again? No turning back now, right?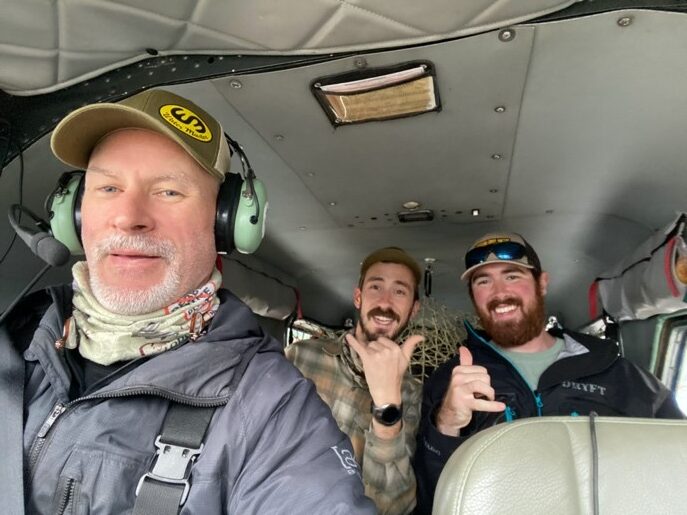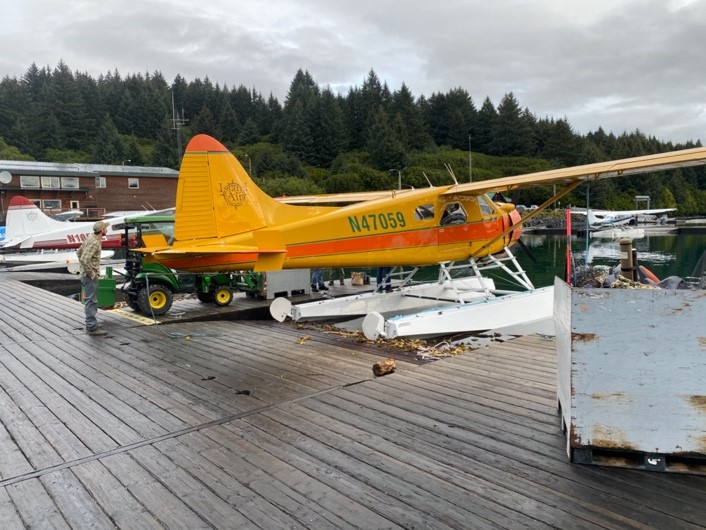 While writing this, I found this paragraph on the Alaskan Fish, Wildlife, and Parks website:
"The population of brown bears on the Kodiak Archipelago is estimated at approximately 3,500 animals of which an estimated 3,000 are found within the boundaries of the Kodiak National Wildlife Refuge. Approximately 180 to 200 of these bears use the 236-mile square Karluk Lake drainage, one of the densest populations of bears in the world."
Well maybe we aren't going. As I am documenting our idling, single engine, Beaver, absorbing our gear, problems arose inside. Apparently, the price we were quoted into and out of Karluk was only one way. Isn't a trip into the bush a round trip? I guess we could float to Russia. After some sweaty brows, a bit of pacing, and several frantic phones calls, we had an extraction plan. Better yet, Will coordinated his satellite phone with our pilot, affording us direct communication regarding our extraction. So, we are going after all, after all this. Upon receiving a very quick safety briefing, which I don't remember any of, I found myself upfront strapped in next to our pilot with head set on. This is it! He revved the engine, pressed some buttons, pulled a couple levers back and forth, and we slid from the dock and away from reality. Cell phones on airplane mode; we are off the grid.
I simply cannot put into words the forty-five-minute flight across Kodiak Island into Karluk Lake. The place is prehistoric: untouched, uncivilized, rugged and intimidating. We spook a group of mountain goats gaining altitude cresting our first mountain range. The landscape plunges away exposing a long narrow fjord carved from an ancient glacier reaching for the sea. The next range offers a Kodiak bear scampering up a narrow ravine to our left while massive tongues of ice gouge their way toward the valley floor on our right. The landscape dramatically changes above the tree line and the deeper into the island we get, the steeper and more serious things become. Looking down, I think of the stories I've read about survivors lost and entangled in hopeless conditions. I don't want to write that story.
"Man, what have I gotten myself into?" This place is WILD. It's incredible.
It was the most revolutionary fort-five minutes of my life. The weather was perfect, we could see for miles, and Kodiak Island didn't disappoint. I'm glad I got myself into this.
The plane banked hard to the left angling us into an expansive valley fenced in by grass sloped mountains. We drop elevation and escape into an enormous grassland dissected by a small sliver of water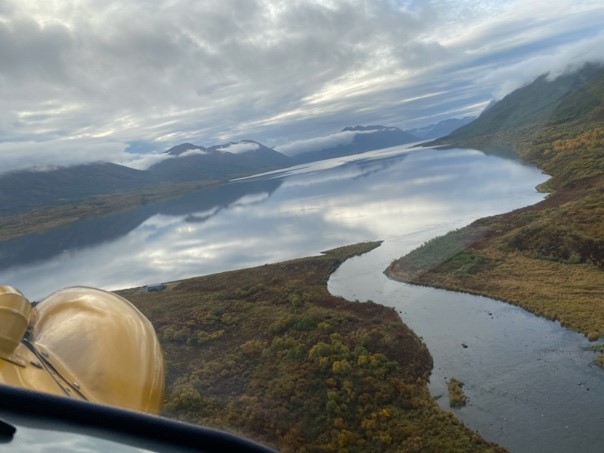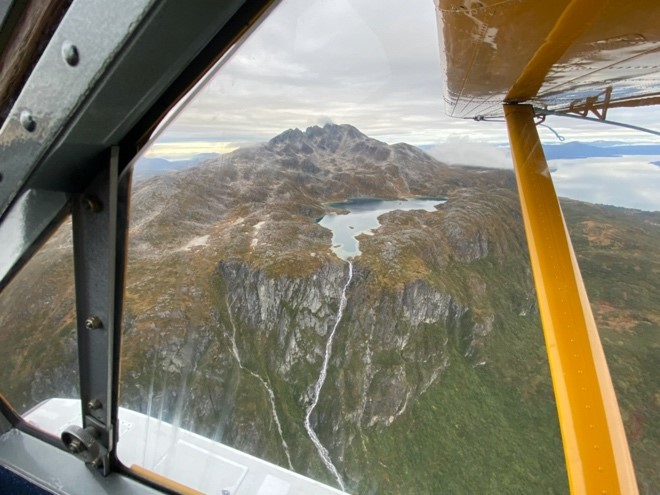 "That's the Karluk river," broke the silence over our headsets.
"Hell yeah boys, we're here," Crackled James through my headset.
Our excitement was quickly tempered as our pilot began rattling off bears sitting in every bend throughout our home for the next four days. Thirty in all we counted from the plane.
"How are we going to float through there?" I thought.
"The river is only twenty yards across in some places. What have I gotten myself into?" echoed in my brain.
Approaching Karluk Lake, the pilot silences the engine and the Beaver coughs itself still as we glide in muted enthusiasm until the pontoons kiss the crystal-clear surface. In a seamless process the Beaver gently approaches shore until the pontoons come to rest and our pilot exits stage left into the water, spins the plane around, and starts chucking gear out. I think he's done this a time or two. While James and Will dance their way into waders on one pontoon, the pilot made sure I got a head start yanking our stuff out of his plane. The first load I threw on the bank ended up on top of a rotting salmon: better get used to that smell. On the second load, the flies introduce themselves to every piece of exposed skin. Did I really leave my mosquito mask at home? The third trip, I spook a sockeye salmon who has journeyed to god's country, completing its duty, and waiting the end. I could die here too.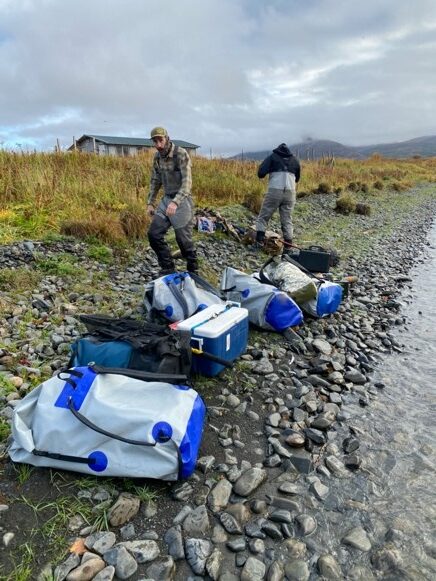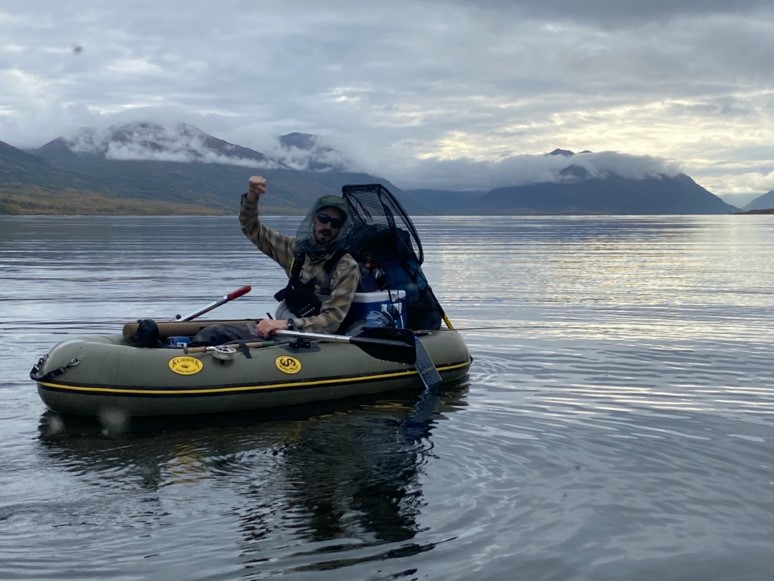 "Anybody have any repellent super handy?" I asked, knowing I didn't have any. Did I really forget that too? It's late September, c'mon.
Watching the plane elevate from its glass runway and melt into the enormity of this place, I beam; I inhale flies sweetened with rotting salmon. Twenty years, I've dreamt of that plane fading away cutting our lifeline and saying goodbye to the only thing that can save us. An ominous calm swept across the alpine surface leaving us entombed by volcanic mountains, a pile of gear, maddening flies, and forty bears, Welcome to Alaska!
Jeremie Loble
Jeremie Loble is head of production Water Master Rafts in Stevensville, MT. He has been building rafts since 2000. He is a graduate from the University of Montana with a bachelor's degree in Business Management. He divides his time between his addiction to fish, and raising his two daughters. Born and raised in Montana, Jeremie has devoted over forty years towards angling, hunting, and conservation. His goals each angling season include: fishing a new body of water, catching a new species, putting in more angling days than the previous year, and most importantly, go fishing with someone new.