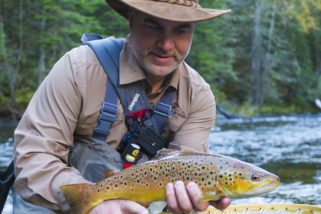 Rob Giannino is an outdoor speaker, writer, photographer, videographer and flytographer (aerial camera operator).  He has written for numerous outdoor publications including FlyFishing New England Magazine and Peche a la Mouche (Fishing with a Fly); a beautiful destination flyfishing magazine based in Quebec, Canada.
Rob lives in Greater Boston, and one of his passions is connecting with the local fly fishing community, sharing experiences and planning for more. He serves as a guest speaker at flyfishing shows, Trout Unlimited chapters and other outdoor events all over the northeast.
He's also part of a partnership group that owns a private fishing club in northern Quebec. Camp Du Lac Bohier has three log cabins and a dining lodge and sits 70 miles northeast of Natashquan, Canada with float plane access only. Known for an abundance of Brook Trout and trophy Landlocked Salmon, visiting Camps Bohier at least once per year with his two sons and best friends is a must.
Rob owns a Digital Media Agency helping people around the world promote their services online. He combined his joy for helping businesses in the digital space with his passion for flyfishing and created FlyFishingJourneys.com . Bringing fly fisherman together, and sharing the love for the sport both on the river and on the internet, fulfills a lifelong dream.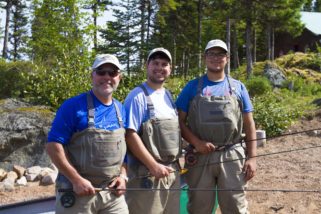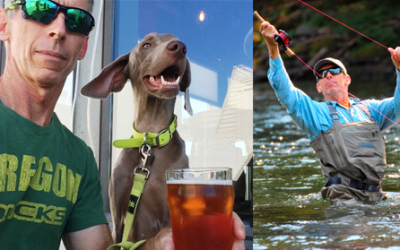 One of the true pleasures I receive from being a podcast host in the Fly Fishing Industry is the ability to meet some of the neatest people on the planet.
It doesn't take long after meeting John Shewey to realize what a solid person he is. John is the Editor in Chief of Northwest Fly Fishing Magazine, as well as their sister magazines, Southwest Fly Fishing and Eastern Fly Fishing. He started as a writer in the inaugural addition over 20 years ago. I remember when this regional publication hit the market in the 90's and thinking, what a cool, local fly fishing magazine with an amazing design and great photos.
John is also the author of some great, local Oregon books and a classic steelhead flies book.
We get into all that plus how the magazine transitioned from the tragic loss of one of their founding partners.
http://matchthehatch.com
Thanks to our sponsors:
https://www.nor-vise.com
http://www.bissellinsuranceagency.com
https://flyfishingshow.com
http://iceland2020.net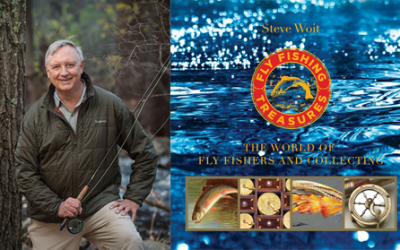 I am not a huge history buff like my buddy Jeremie Loble of Water Master Rafts. After visiting France this past summer, he brought me a beautiful keepsake from Omaha Beach after he had visited Normandy and some other World War II sites. I do like to research history and value its importance to having a better understanding of today's times.
In fly fishing, our history involves the people who impacted our sport over time. The early and fine equipment has become treasures for us to uncover.
In his stunning, coffee-table style book, Fly Fishing Treasures, Steve Woit dove into the world of fly fishing history and collectibles. These collectibles are like the finest fly fishing antiquities and they are fascinating and beautiful behold.
The art of collecting fly fishing antiques is in and of itself an amazing undertaking. To spend seven years of your life, traveling around the world, studying, documenting and photographing these collections is simply amazing; and that's just what Steve did.
In this chat, I speak with the author, Steve Woit and two of the many collectors he featured in the book, Jerry Girard and MJ FitzGerald.
https://flyfishingtreasures.com
Thanks to our sponsors:
https://www.nor-vise.com
http://www.bissellinsuranceagency.com
https://flyfishingshow.com
http://iceland2020.net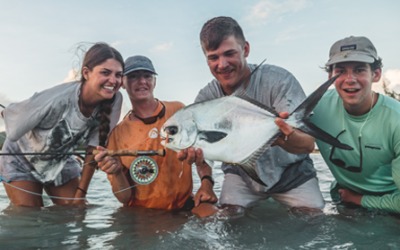 Episode Summary
On this episode, you will hear how the passion for fishing can be an amazing medium to effect change in the world.  I originally learned of Steve Brown when I saw his movie Beyond The Horizon.  What an incredible story.  It's now available to watch on Vimeo and I recommend you watch it. I will leave a link in the show notes.
Steve is the founder of Fish For Change and along with his team including Heather Harkavy, Director of Development and Student Programs, are making a difference in the lives of young people around the world.
Have a listen to this dramatic and heart-warming podcast with Steve and Heather. 
https://www.fishforchange.org
https://www.flyfishguanaja.com
https://vimeo.com/250590472
Thanks to our sponsors!
Norvise, Bissell Insurance and The Fly Fishing Show
http://www.bissellinsuranceagency.com
https://www.nor-vise.com
https://flyfishingshow.com
http://iceland2020.net