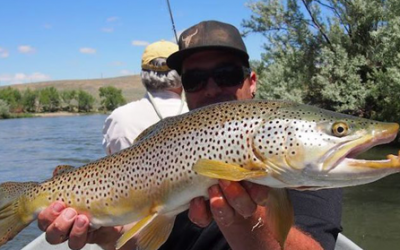 The North Platte River in Casper, Wyoming is a world-class Rainbow and Brown Trout fishery. On the Pod you will learn about "flush and flows", the monthly fishing calendar and the bug life to make your visit more successful. You will also find out Ryan Anderson and his guides at Wyoming Fly Fishing are really fun to be around, keep you laughing and on fish throughout the day. On the North Platte, the majority of the fish are healthy-sized Rainbows but with a little work, you can also find that monster Brown you have always dreamed about. We connected with Ryan at the Denver Fly Fishing Show and made a plan to visit Casper and float the river with him. We visited in April and quickly found out the river is loaded with gorgeous fish. The main sections that should gain your attention are the Grey Reef, the Miracle Mile, and Fremont Canyon. Enjoy the Pod and please pass it on to one of your fly fishing friends. Thanks!
Wyoming Fly Fishing
http://platteriverguides.com/
Thanks to one of our sponsors The Fly Fishing Show:
https://flyfishingshow.com/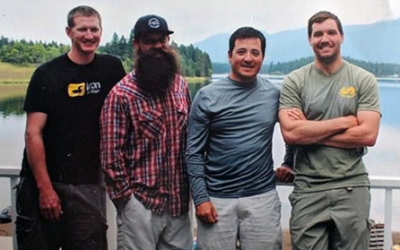 I'm really pumped to share the InTents Media pod with you all. What do I love about these dudes, well just that, they're INTENSE! They go to the ends of the earth for the amazing story, for the epic fish and for the serious passion. Each year you can find their films in the International Fly Fishing Film Festival where they have been honored with top film in several of the recent years.
Take a listen and leave some comments with your thoughts…Thanks!
To stay connected with the guys from InTents Media on InstaGram:
Cortney Boice: @bluehalogear
Phil Tuttle: IG @phil_tuttle
Derek Olthuis: @derekolthuis
Spencer Higa: @tackyflyfish
Reference:
https://www.youtube.com/channel/UCKq9nT9iTziF7j9x6pFop-w
http://bluehalostore.com/
https://www.orvis.com/
https://tackyflyfishing.com/
Thanks to one of our key sponsors:
https://flyfishingshow.com/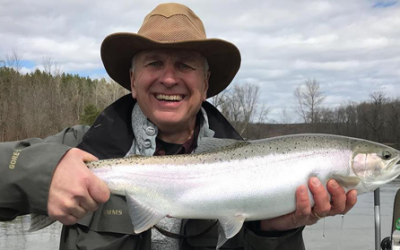 Jason Randall – Understanding Trout Behavior For Catching Bigger Fish
Jason Randall is one of the top authorities in fly fishing today. His books include Moving Water, Trout Sense, Feeding Time and Nymph Masters. He is part of the Temple Fork Outfitters National Advisory Team with a focus on the development of nymphing rods.
We sat down at the Atlanta Fly Fishing Show and had a great conversation about trout behavior and how to catch more and bigger fish.
This podcast will give you a better understanding of trout and their habitat. You'll gain knowledge of their feeding behaviors and patterns. You will learn strategies for targeting and catching bigger fish.
You can find more information about Jason and his writings at:
http://jrflyfishing.com
You can find more information about The Fly Fishing Shows here:
https://flyfishingshow.com
TALL TIMBER LODGE PITTSBURG, NH
Surrounded by the Connecticut Lakes, the headwaters of the Connecticut River, and many remote streams and ponds, Tall Timber is the perfect setting to relax after an exhilarating day outdoors.
LEARN MORE
Win Cool Gear
Join our community for a chance to win cool gear!
Join Our Newsletter!
Get Notified When New Blogs & Podcasts Are Added!
LAKE BOHIER CAMPS, QUEBEC, CA
Your Remote Flyfishing Destination For Trophy Landlocked Salmon & Brook Trout.
Click Here