October Fishing.  Need I say more as an angler?  This is, arguably, one of the most popular months to chase trout. Anglers enjoy fair weather, fewer crowds, pre-spawn brown trout on testosterone, bugs hatching, and rainbows on the prowl. October in Montana can be beautiful; 60-degree days, or 20 degrees with blowing snow, sometimes both in the same day. So, I was nervous about the weather, but more than ecstatic when my good friend Rob Giannino, from "Fly Fishing Journeys," called informing me he booked a plane ticket to Helena, MT. I was especially fired up because he was bringing all his camera gear and I was bringing the Bruin (Two-Man Water Master Raft) and Payton, my 4 month old lab.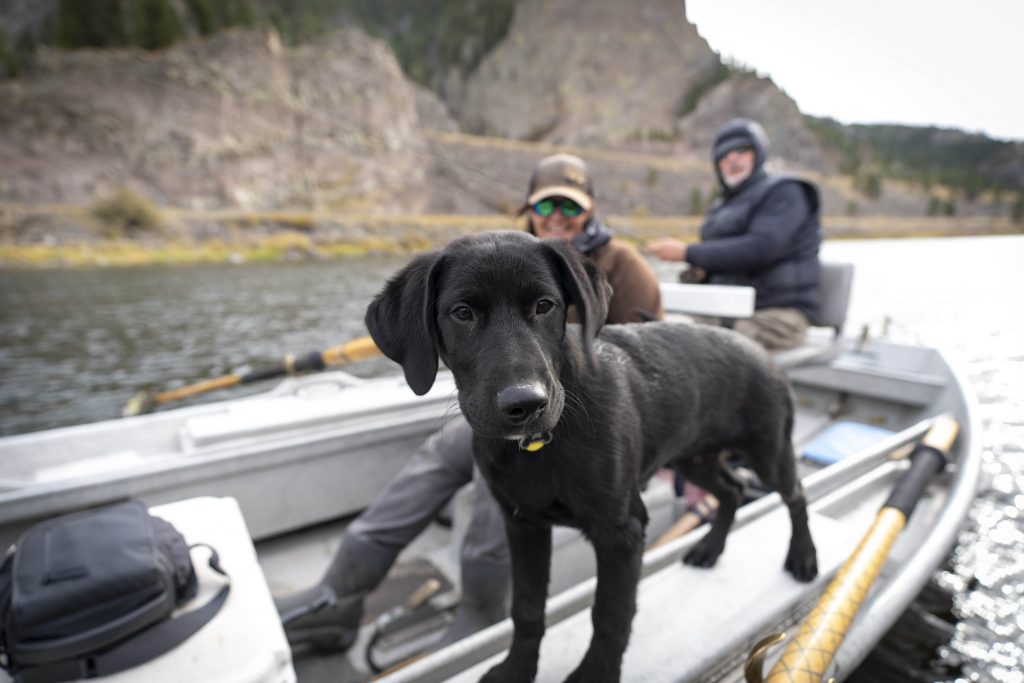 My usual film crew exists of my cell phone in the front pocket of my waders, so having real cameras around would be a welcome change. Rob's previous and only trip to Montana greeted him with an April snow storm and we battled the Missouri for only a couple solid browns. So I was anxious for the two of us to have another crack at it. This place is magical; both in beauty and experience, and for those who are fortunate to have been dazzled by it, find it intoxicating. So, I hoped it would be one of those weekends! Please!!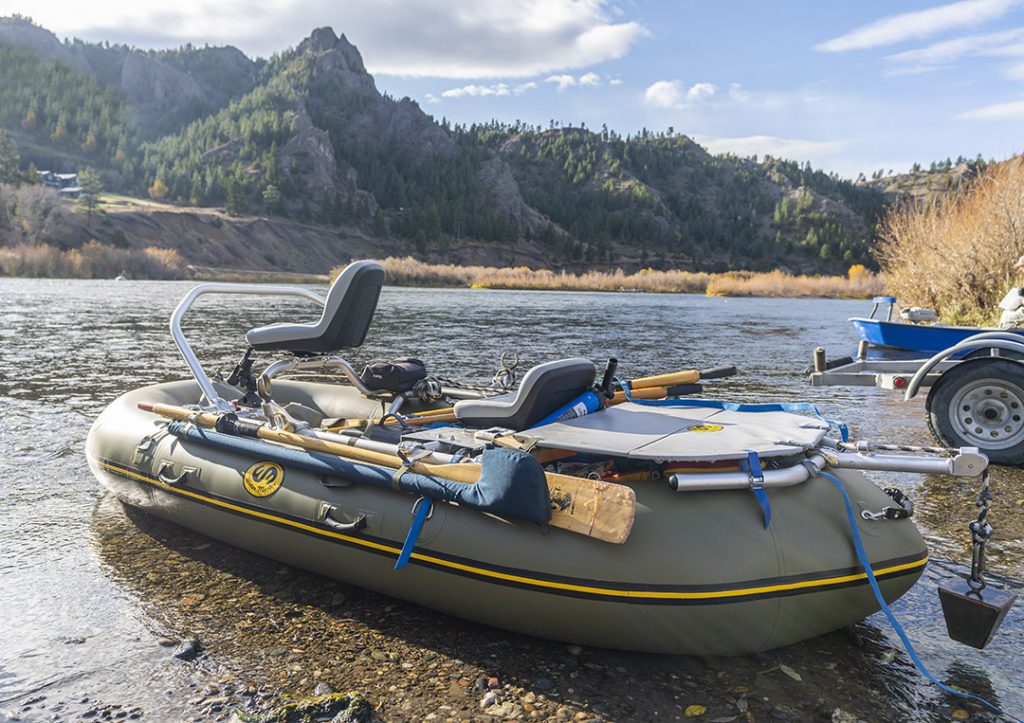 10pm Friday night I roll up to the Helena airport after driving from Missoula, and my buddy from Boston is waiting with a smile and camera in hand. Snap, cameras rolling we're live, and it's on! Wait can we try that again? I wasn't ready. That will be a common phrase over the next three days.
"What's up, my brother?" We simultaneously yell at each other in front of a handful of travelers. After all it is the Helena airport, so maybe five or six.
Catching up, trading stories, and future endeavors accelerated the hour long drive as we eagerly waited for the next three days to unfold. I was pumped but nervous about the weather for our expedition. I was particularly worried about Payton, my 4 month old black lab, and how he would handle the elements. We received a welcome gift from Mother Nature with mid 40 degree weather. For the third week in October this is good, but she was going to test us with the wind. If you have ever fished the Missouri below Holter Dam you know that a calm day is 10 mile an hour winds.
"Maybe we'll fish in the canyon and get out of some of the breeze," I thought to myself.
It was after hours and we found our key to the ground level hotel room in the very small town of Cascade. Payton was ready to get out of the car and we unloaded our gear under headlamps. I decided I was going to park the boat differently and Rob generously lent a guiding eye. With everything taken care of we looked forward to some ESPN and a good night's sleep. I reached to open the door and it was locked.
"You got the key, man?" I calmly said to Rob.
"No, you got yours?" He confusedly returned.
"You never gave me one." I said even more confused.
It's close to midnight, and nothing in the great metropolis of Cascade is breathing life anymore. Furthermore, I am looking through the window at my sweet and patient puppy anxiously waiting for someone to open the door. Add to that, both cell phones and both wallets were being guarded very well by Payton. I guess we are lucky we had shoes on. A bit of stress followed by Rob's exceptional personal skills resulted in a neighbor making a most precious phone call. Puppy saved! Not a good omen, or are we just idiots.
"It takes talent to do what you two did." giggled jolly old Mike who graciously exited his bar seat to let us yahoos back into our home for the next three days.
The next morning, we arose leisurely, no need to be on the water early. I jet boiled some coffee, and we met Mike in his shop (Trout Montana) next door. After a quick video of our entrance, we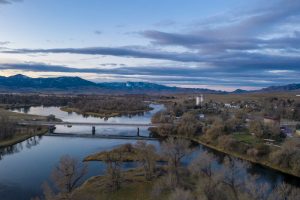 bought a few bugs, and with some real time knowledge we headed up river for the canyon section. This is my favorite section on this part of the Missouri both for the amazing cliffs lining the water and the unbelievable fishing. It was sunny but the steady breeze kept the two of guessing for quite a while as Rob peppered the banks with streamers. We spent time with the cameras and flew the drone around like a couple teenagers. After being frustrated from lack of action most of the day, Rob's line finally went tight. The trout raced down river catching air in what looked like a double flip twist and then gaa-bluush back into the current. I pushed on the oars and we chased the fish downriver until we were able to get the beautiful rainbow to the net. After some high fives, a few photos, Rob lowered the net and we watched the fish slither back into the darkness. I was so relieved. We finished the day strong with several more fish in the last mile of river, and we were happy. We were glad to be out of the wind, pleased to have landed a few, and looking forward to our hotel room. (with cable T.V. and wi-fi)
After a wonderful small-town dinner, some battery recharging, a couple dog walks, and a great night sleep we were fired up for day two. Today we are heading upriver to the dam to see if we can find some pods of rising fish. As hot and feisty as the streamer bite can be, there is nothing more exciting than having these big bruisers sip tiny little dry flies. The Missouri trout go ballistic when hooked with dry flies, and getting these guys to net on light tippet can be quite a tricky dance. Blow by blow each combatant fights for an upper hand.
Good morning hugs and hand-shakes were exchanged as Rob and I opened the doors to the Trout Shop in Craig, MT. My good friend, guide, and all-around great person Shelley is giving us information so fast that we needed a second cup of coffee.
"Shelley keep it coming." I thought.
Any angler is never afraid of more and more information. With some bugs, a bit of knowledge, and car shuttle arranged, we headed out the door looking forward to the day. I was even more stoked for tomorrow. Shelley was going to take tomorrow off and offered to row us two dingbats down the river all day!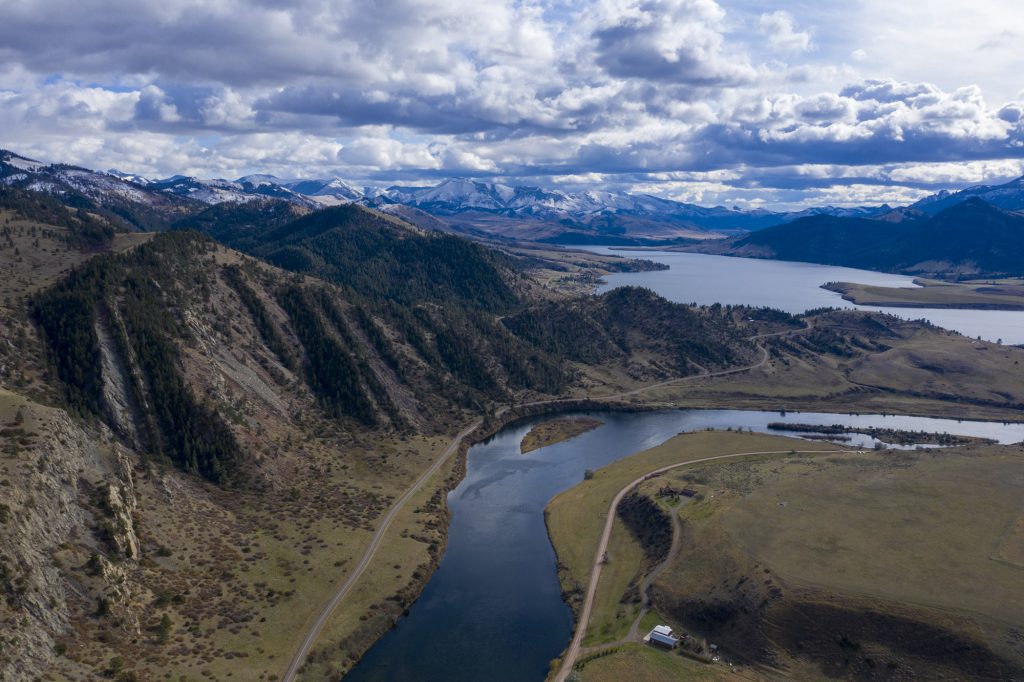 The day started slowly as we battled a steady breeze and struggled to find some feeding fish. The wind made nymphing challenging so we decided to switch to streamers. Easier to cast and only one hook reduces tangles and frustration.  This proved to be as unsuccessful as the nymphing. So, we found a nice lunch spot and sent the drone fishing. I have spent forty years floating every section of this river from Holter Dam to the city of Great Falls, but never have I been able to see the landscape from above. Technology can be incredible. It was a short day and a short float so although we hooked into some nice fish, we came up short at the net.
Monday morning: and it's always a pleasure to fish on a week day [not that that makes a lot of difference on the Missouri]. These trout are addicting, and spark the interest of anglers from all reaches of the globe. I was particularly excited for the day because Shelley, who also owns "Dirtygirlguides" is going to guide us all day. Lucky me, I get to fish and not worry about fish not being caught, or the position of the boat, or what holes to fish. The weather was about the same as the previous two days, but with a bit less wind. The action was not hot, but we hooked and landed a solid rainbow within the first ten minutes. This is always a great way to start a float because it sets a mood for the rest of the day and alleviates the stupid pressure that we put on ourselves to land fish. We were rewarded for our efforts with a handful of very nice rainbows and a couple of smaller browns throughout the day. Maybe we just needed a real guide. Shelley was magnificent on the oars and kept us on point all throughout the day. I always enjoy fishing with different people on a body of water that I feel I know very well. There is always a different way of doing things and different sides of the river. The incredible thing about the Missouri river in this section, is that there are 5,000 trout per mile scattered all throughout the river. So, finding different holes, or fishing different places can often be just as rewarding as running your bugs through the same water you always do. We get stuck in our ways, especially if they are successful. Fishing is fluid and as an angler you have to be willing to adapt. Try something new, fish in different spots, and fish with different people. For me fishing is just that. I love to catch fish, and try my hardest to do so, but cherish the times and the people. There is NEVER a bad day of fishing. Fishing is not about catching. It's about the journey and the people you're with.
Jeremie Loble
Jeremie Loble is head of production Water Master Rafts in Stevensville, MT. He has been building rafts since 2000. He is a graduate from the University of Montana with a bachelor's degree in Business Management. He divides his time between his addiction to fish, and raising his two daughters. Born and raised in Montana, Jeremie has devoted over forty years towards angling, hunting, and conservation. His goals each angling season include: fishing a new body of water, catching a new species, putting in more angling days than the previous year, and most importantly, go fishing with someone new.