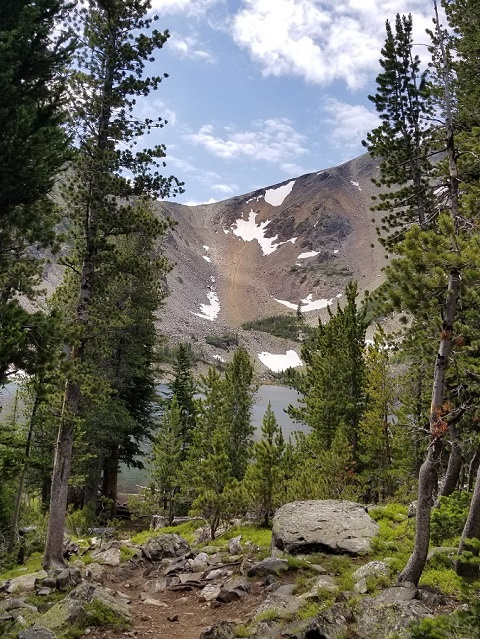 Tobacco Root Mountains in Montana. Should I keep going? Okay, my brother Jason, and I decided to hike into an alpine lake and spend the weekend fishing. One of my goals for this angling season was to do more camping and more still water fishing. I needed incentive, and this would be a great opportunity to do that in a spectacular setting. Throughout our busy lives, we have always made an effort at getting together to fish. Fortunately for me, Jason's first job at sixteen was at the fly shop. He learned from the best and started guiding shortly thereafter. He got me into fishing, and the two of us have been chasing trout ever since.
Jason did his research. He found a mountain lake stocked with both Yellowstone and Westslope Cutthroat trout. Better yet, it was only a two-hour hike. With all the lightweight gear available today, and only spending one night, two hours of switch-backs was well within my wheelhouse.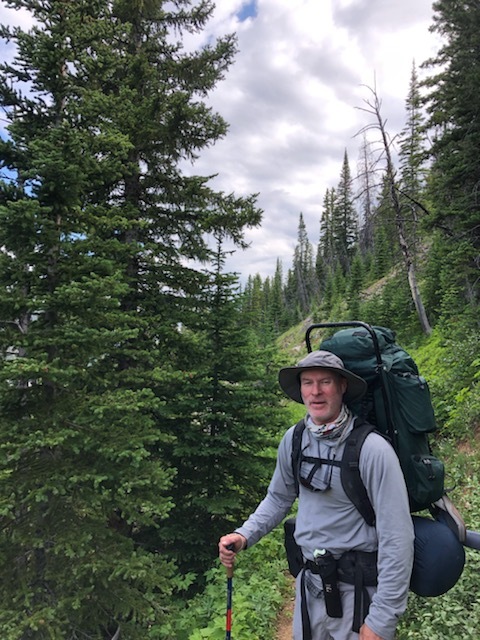 A hot wave of dry pine swept over us as we exited the truck. I'll never get tired of all the crisp and fresh forest smells. It reminds me of backpacking with my father. After checking our packs, we doused ourselves with sunscreen and Deet. Off we go and feeling great. Half an hour later, my pack is rubbing me raw. I packed too much lightweight gear. How far have we gone? Only a quarter of the way? As I continue to pout, we are passed by a young man with two dogs.
"Howdy fellas," he said holding a 24 ounce can of Bud Light.
"Some big fish up here eh,"he stated confidently.
"We've never been up here," we replied simultaneously.
Now when someone I have never met tells me there are big fish where I'm going, I pause. You never know what people's motives are. In this case we accepted it as positive news. After all he seemed like he knew what he was talking about. Several miles, and several water breaks later, we were greeted by a high school kid coming down hill ona mountain bike.
"There's some big fish in there," he said with a smile on his face.
Okay, now something is up. We bite, and double time the last quarter mile. We crest the hill and can see the lake through the pine trees. Thisscenic entry is abruptly halted by a sign nailed to a tree. The mood shifts as Jason reads about a dead horse just off the trail that has possibly attracted Grizzly bears.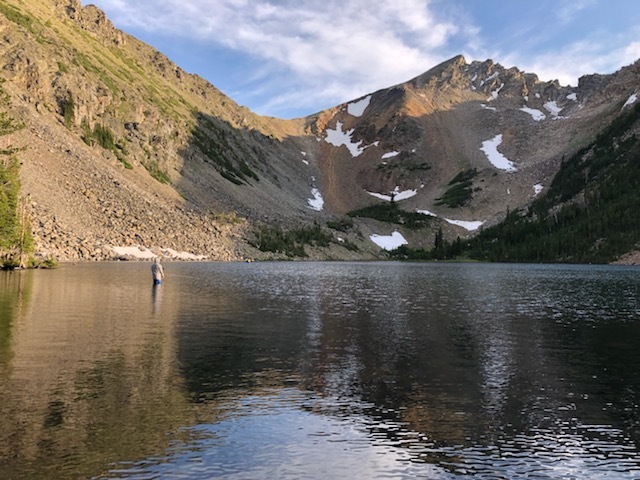 "Overnight camping strongly unadvised." The sign said.
I'm glad someone decided to read. I was busy gawking at the scene in front of us. After talking to a resident of the last couple nights, andwith a handful of people on the lake already, we decide to stay. The lake is small, allowing a person to encircled it within an hour. It sits in a bowl at 8500 feet above sea level and is surrounded on all sides by steep slopes. Half the lake is guarded by a massive rock garden, some the size of cars, the other lined with trees. We quickly picked a camp site and dropped our packs in a heap. As I put together my fly rod, I noticed Jason fussing about where the tent should go.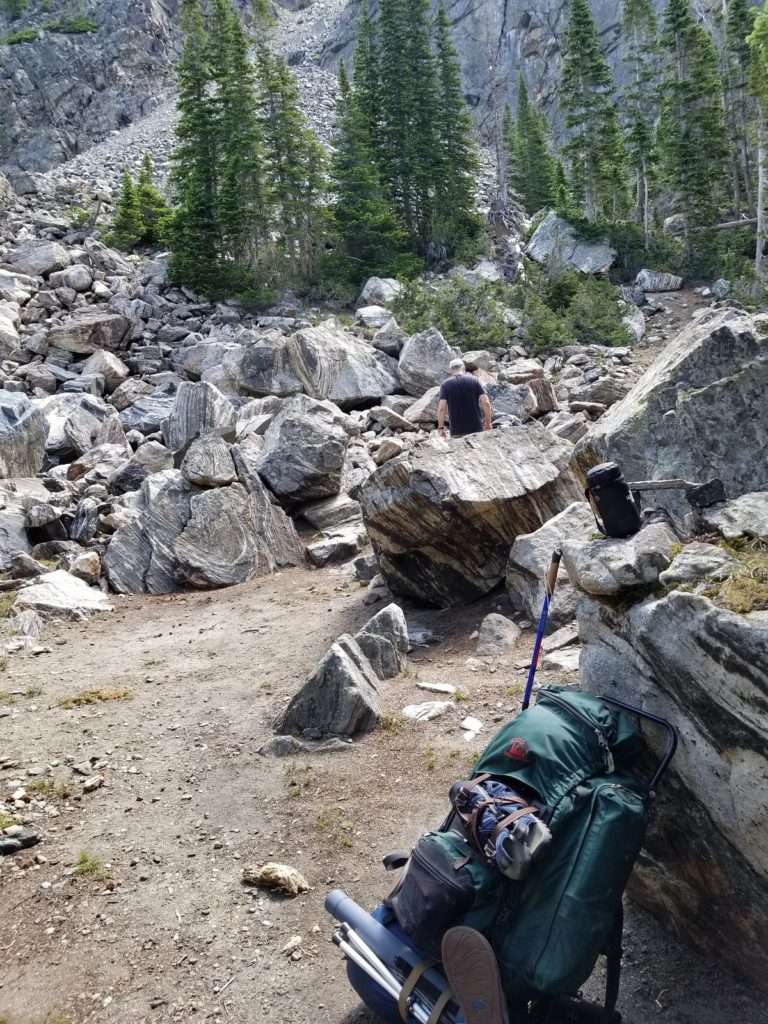 "Let's go fishing! We can deal with camp later," I said to myself.
"I just want to get the tent situated first," He replied on cue.
Did I say that out loud? Brother's intuition perhaps.We settled the tent into our new home for the weekend and focused on our fishing gear. It was a gorgeous sunny day without a cloud in the sky and I was glad I didn't lug my waders all the way up here. We started right in front of our campsite as there was a waist deep shelf extendingout forty yards. This allowed us to walk out far enough to reach the fish without snagging a tree behind us. The edge of the shelf dropped straight down into the dark, and that's where the fish seemed to be.
Several flies, and several smallerfish later, wedecided to explorea bit in search of something bigger. Besides, I needed to walk and get some feeling back into my legs. Walking opposite the rock garden we searched for another clearing to make some casts. The other anglers, including the young man on the trail were all using spinning gear. I was beginning to see why. It was tough to cast a fly. The banks of the lake are tight, and wading is tough. One side nothing but tumbling boulderssettling into a pile of rubble, and the other, tightly defended by evergreens and dead standing timber. We opted for voiding the rocks, and found our nostrils burning from fowl death.
"That horse smells close." I said.
We quickly moved on. There were fish rising down the bank and Jason was quickly waist deep tossing a small Parachute Adams. So, I decided to follow suit. I waded out to a point where every man would prefer not to go any deeper.
"Dang, I wish I had my waders," I muttered.
Alpine lakes are cold. Wow!I saw a fish rise, made a couple false casts looking to land the fly perfectly, and promptly snagged the tree behind me. Meanwhile Jason is landing another trout. After a couple more beautiful fish in an unbelievable place, we kept encircling the lake.
I was looking across the lake at our campsite when I noticed some clouds forming over the peak. Just then a cool breeze slid down from the peak chilling my soaking wet body. No more fish rising.
"I'm going to head back to camp," I yelled over to Jason.
"Okay, cool. I'll be right behind you," He replied with his nose deep in one of his fly boxes.
Okay decision time. Shortest way is through the rock garden. Easiest way is the long way back. Halfway through the rock garden I was cursing myself. The storm was bearing down on us and we had all kinds of stuff strewn about camp out in the open. Break an ankle, or let stuff get wet? I managed to find a patch of snow making up some time. Jogging into camp with only minor cuts and scrapes, I felt the first rain drop. Jason was right behind and after a quick scramble we were snuggled in our tent with everything secure. I hoped.
Small hail even appeared briefly in the 30-minute violence. We read from our Kindles as the rain beat down upon our tent. I sure am glad someone fussed about putting the tent up. Itfelt good to be dry anyway. As quickly as it came, the storm moved on to its next victim. Not sure where it went, but when I crawled out of the tent there wasn't a cloud in the sky. Like nothing happened, Just beautifuldeep blue sky again. The storm activated the insects. The warm sun gave life to everything living. Fish were rising everywhere. We grabbed our rods, ignored camp, and clambered back into the water. The next two hours were some of the most enjoyable fishing I've had in years. The stormed chased all the humans away and my brother and I stood waist deep in a pristine alpine lake landing beautiful cutthroat after cutthroat.
We broke brieflyfor dinner, built a fire, and made plans to fish until dark. I love fishing with my brother. He knows more when it comes to everything fly fishing. He's more patient when it comes to everything fly fishing. His flies are better. He's just better, but he makes me better and I catch more fish because of him. He always figures out what the fish will eat long before I do.
The stars were so bright it felt like we could stand on our tiptoes and touch them. Bright enough to allow our lines to stay wet as long as our legs could take it. The coals from the fire were spitting their last breaths, so we decided this wonderful day had to end. I wrestled myself into my sleeping bag, read something I can't remember, and fell asleep plotting my attack for tomorrow.
Jet-boiled coffee and some hot oatmeal chased our yawns away and entered us into another gorgeous day. Not being excited about jumping into the water yet, I decided I was going to work my way around the lake opposite the rock garden. I had one of my brother's small damsel nymphs tied on from last night, and with no fish rising I left in on. I didn't get far. Dozens of Cutthroat trout, in all sizes, were cruising the shallows in the vibrant sun. They were closer to us than last night allowing me to cast to them while keeping my legs dry. I stripped some line from my reel and made a long beautiful roll cast right to the fish. Splash! My glass-beaded Damsel hit the surface scattering every fish within twenty yards. Damn! As I sat patiently and watched for their return, I changed my set up. There wasn't a hatch going on and I went back and forth on a half dozen different patterns ultimately deciding upon a size 18 Griffith's gnat.I figured out the cruising lanes and could see some big bruisers passing by from time to time. I found a gap in the trees, stripped line from my reel, and delicately landed the gnat five feet in front of several healthy fish. Dead calm and my fly is harmlessly sitting on the surface being ignored. Should I recast? I don't want to spook them taking my line off the water. It sits there doing nothing for minutes. I decide to twitch the fly and see what happens. Good choice. From five feet away a lit-up Cutthroat kicked its tail fin and crushed my gnat so fast it scared me.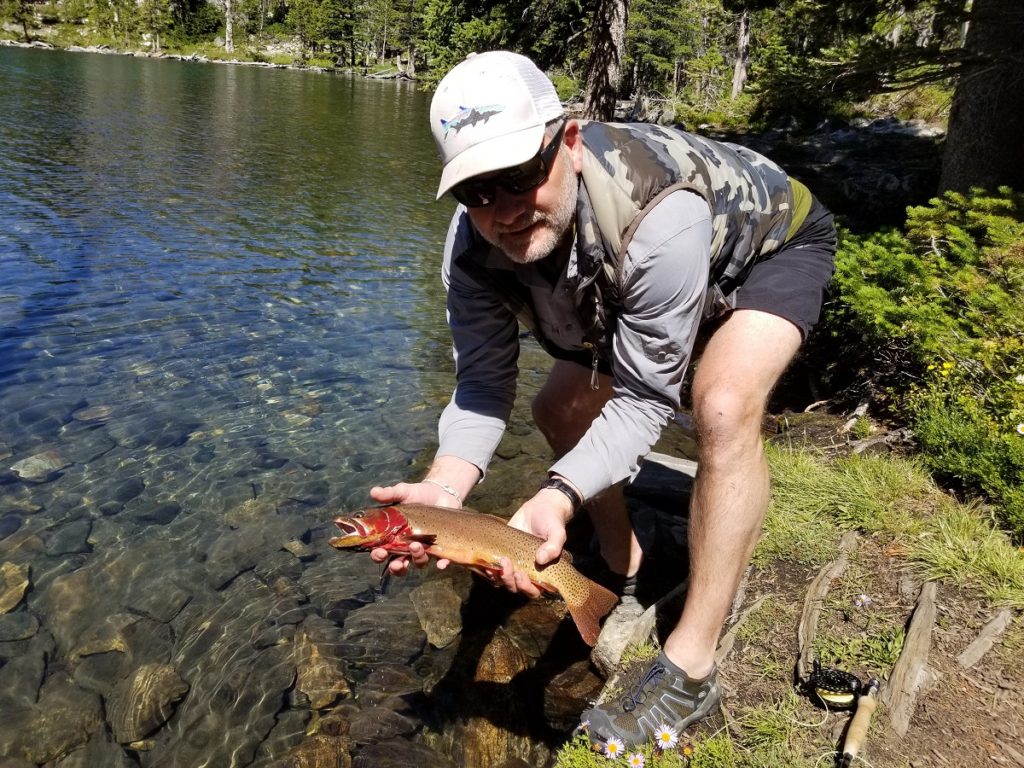 "Fish on," I hollered.
"Nice bro," he yelled back walking to shore reeling in his line.
"This is my best fish of the weekend by far," I returned
I slowly worked the gorgeous Yellowstone Cutthroat into my hands as Jason approached camera in hand. We took some photos, marveled at its beauty, as slipped it back into the crystal-clear water. Jason quickly followed with another stunning Westlope Cutthroat, and as we ate our breakfast and broke camp, we felt lucky to have found this place.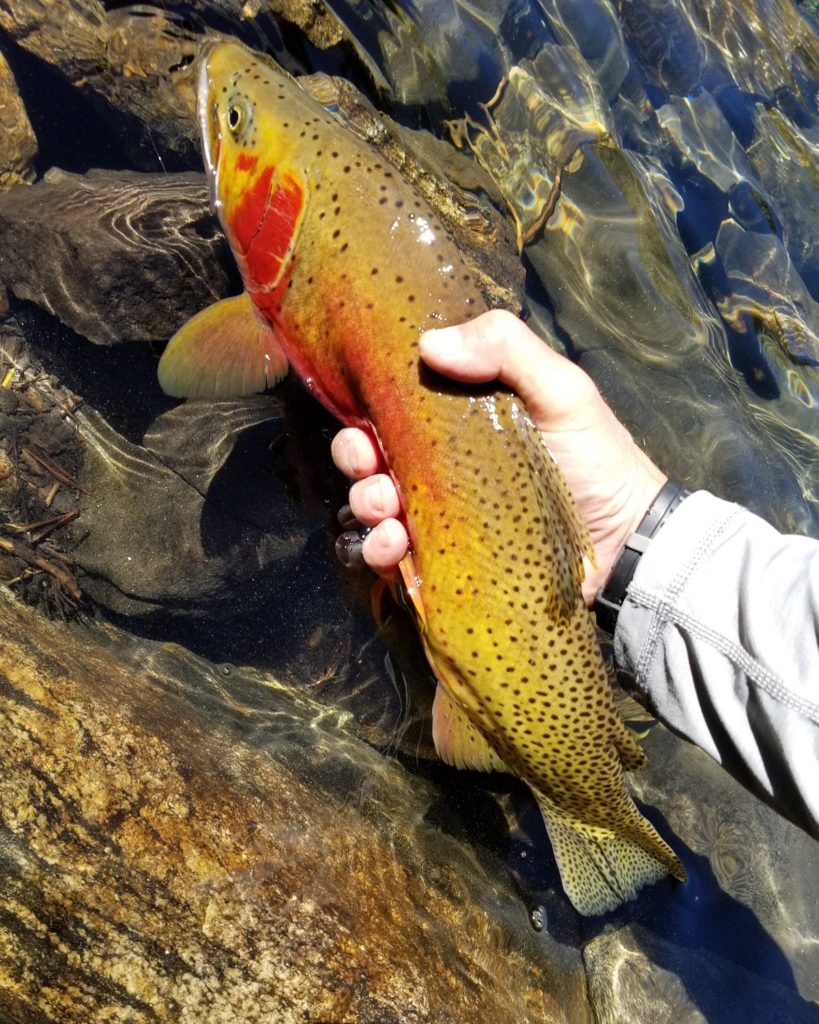 Jeremie Loble
Jeremie Loble is head of production Water Master Rafts in Stevensville, MT. He has been building rafts since 2000. He is a graduate from the University of Montana with a bachelor's degree in Business Management. He divides his time between his addiction to fish, and raising his two daughters. Born and raised in Montana, Jeremie has devoted over forty years towards angling, hunting, and conservation. His goals each angling season include: fishing a new body of water, catching a new species, putting in more angling days than the previous year, and most importantly, go fishing with someone new.