New Zealand, one of the best fly fishing destinations in the world. It boasts of some of the most pristine lakes, rivers and streams for trout fishing. Although the whole country has plenty of fishing opportunities, this post will focus on South Island. Here you'll find plenty of opportunities to fish for big brown trout with big dry flies.
The South Island offers plenty of trout fly fishing opportunities, grab a 6 weight fly rod, and map out your dream trip to New Zealand. Remember to keep an eye on the weather. In New Zealand the weather changes quite rapidly. We recommend coming in late summer to make the most of your stay.
That said, onto the list of my favourite rivers in the South Island of NZ:
8 Best Rivers for Fly Fishing in New Zealand South Island
1. Buller River
The Buller River is a magnificent large river with many tributaries and constitutes one of the country's best brown trout fisheries. Since it has many tributaries, it provides a great location for fly fishing a wide range of trout populations that grow to incredibly large sizes.
The river retains its natural beauty. Furthermore, it is protected by the Water Conservation Protection Order [1], which fought to ensure that the river and its scenic and wild characteristics are properly taken care of. You can access the Buller River from State Highway 6 or you may have to beat your path through the vegetation since most parts are more restricted. Make sure you carry flies like the Parachute Adams, Green Beetle, March Brown or Greenwell's Glory.
2. Haast River
Although the Haast River is relatively large, the trout population is relatively low. However, it is still an ideal and mysterious fly fishing location, especially for brown trout. The river hosts a massive water catchment, so when it rains heavily, it is very likely to flood. That is why most of the hatches around the river are washed away, making it challenging to fly fish.
You'll have to keep your eyes peeled when fishing in these parts of New Zealand because the stone and gravel bed is quite unstable. The best fishing season on Haast River is after long periods of clear dry weather. We recommend trying to cover as much ground as possible and throw a fly to anything that looks fishy. Try wet fly fishing with a Hamill's Killer, Grey Ghost, Mrs Simpson or Parson's Glory.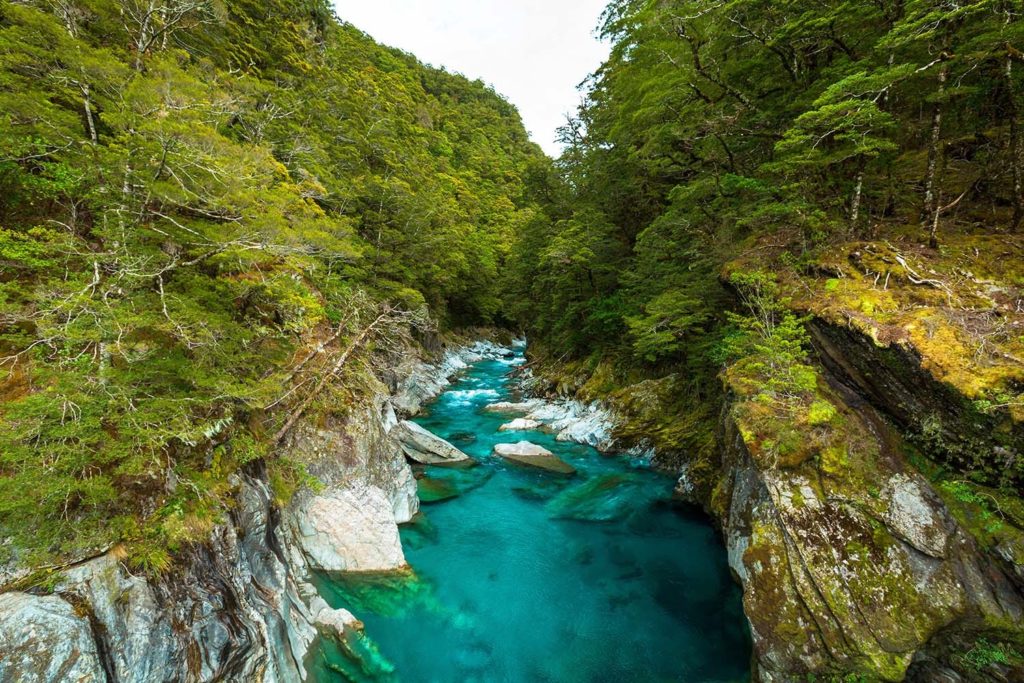 3. Eglinton River
The Eglinton River oozes magnificence, flowing from Lake Gunn and finds its way towards Lake Te Anau. It is a great destination for trout fishing expeditions and is restricted to fly fishing only. It typically has gin-clear waters, meaning you're going to have a tough time moving without being spotted. You can expect rainbows or browns in this region.
The Eglinton river has more than 30km of trout fishery lying within the Fiordland National Park. Since it flows mostly over open land, it provides an easy fly fishing environment. If you can head down towards the Walker Creek area in April-May or November-January you'll experience some of the best fishing. The best flies for this trip include Palmer patterns, Halfbacks, Blue Dun, Kakahi Queen and others.
4. Ahuriri River – Central Otago
The Ahuriri is a significant river nationally, especially for the trophy trout, making it a great destination. It has a high population of brown and rainbow trout and the surrounding scenery is nothing short of breath-taking. This area has unique wildlife and vegetation, so much so that it is protected under the Water Conservation Order (WCO). So make sure to read the regulations prior to venturing in.
The river begins from the Southern Alps and flows East, eventually draining into Lake Benmore. Over the summer, the area can be quite hot and windy, making it challenging for any fly fishing trip during the day. Therefore, the best time to fish is in the early morning or late evening, using flies like the Pheasant Tail, Hope's Dark, Rabbit varieties and Yellow Dorothy, among others.
5. Motueka River
This is one of the premier brown trout fisheries in New Zealand, boasting of very high trophy size resident and sea-run trout. Since the Motueka River is an outstanding recreational river with very scenic surroundings, wildlife habitat features and a high population of fish, it was also a legislated fly fishing destination by the WCO.
The waters are mostly crystal clear, meaning you can sight fish just about every fish you catch. This makes fly fishing here very challenging, but, at the same time, rewarding. Pack flys such as any mayfly nymphs, Fuzzy Wuzzy, Hairy Dog, Twilight Beauty or Hares Ear.
6. Rai River
Although small, the Rai River is a delightful fly fishing destination in South Island New Zealand. It is easily accessible from State Highway 6, among other several access points. It provides incredible fly fishing experiences because trophy-sized rainbow and brown trout, that can weigh up to 4.3kg.
The river features numerous rapids, deep pools and long glides flowing over open land. Although some areas have thick vegetation that can make access slightly challenging, it provides cover for the fish population. You can also wade along some sections of the river. Some of the recommended flies around here are Copper and Hare nymphs, March Browns and Black Gnat.
7. Oreti River – Southland
The Oreti River, again, is breathtaking and trout fishermen hold it in high regard for its huge population of brown trout. Since 2008, the river and its surroundings have been protected by the WCO to preserve its the natural state. It river flows about 130km in total, providing a long stretch for fishing. The most popular fishing regions are downriver around the lower reaches, just above the West Plains Bridge.
To land more fish try flies like the Red Tipped Governor, Blue Dun, or the Invicta.
8. Mataura River – Southland
If you are more of a purist, then this is your dream fishery. The Mataura is one of the best dry angling destinations for brown trout in the country, stretching over 150km, most easily accessible.
Being the largest river in South Island, it provides a large playing ground for trout. Furthermore, there are large hatches of mayflies to help you catch the trout that rise freely to feed. If they aren't rising for mayflies, try nymphing using Willow Grubs nymphs.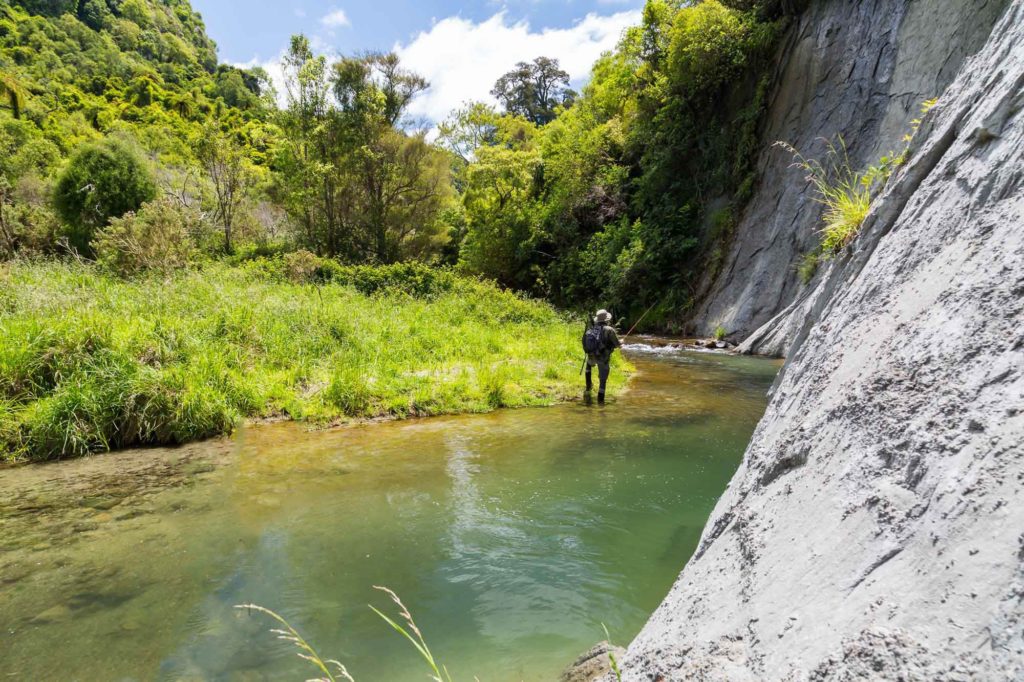 Wrap Up
So there you have it 8 of the finest trout fisheries in the South Island of New Zealand. If you're planning a trip you can reach out to me at Fly Fisher Pro where we can help guide you to the best spots.
We also have a full guide to fly fishing New Zealand where you can find information on the freshwater fishing licenses and more locations to fish.
References
http://www.legislation.govt.nz/regulation/public/2001/0139/latest/DLM49250.html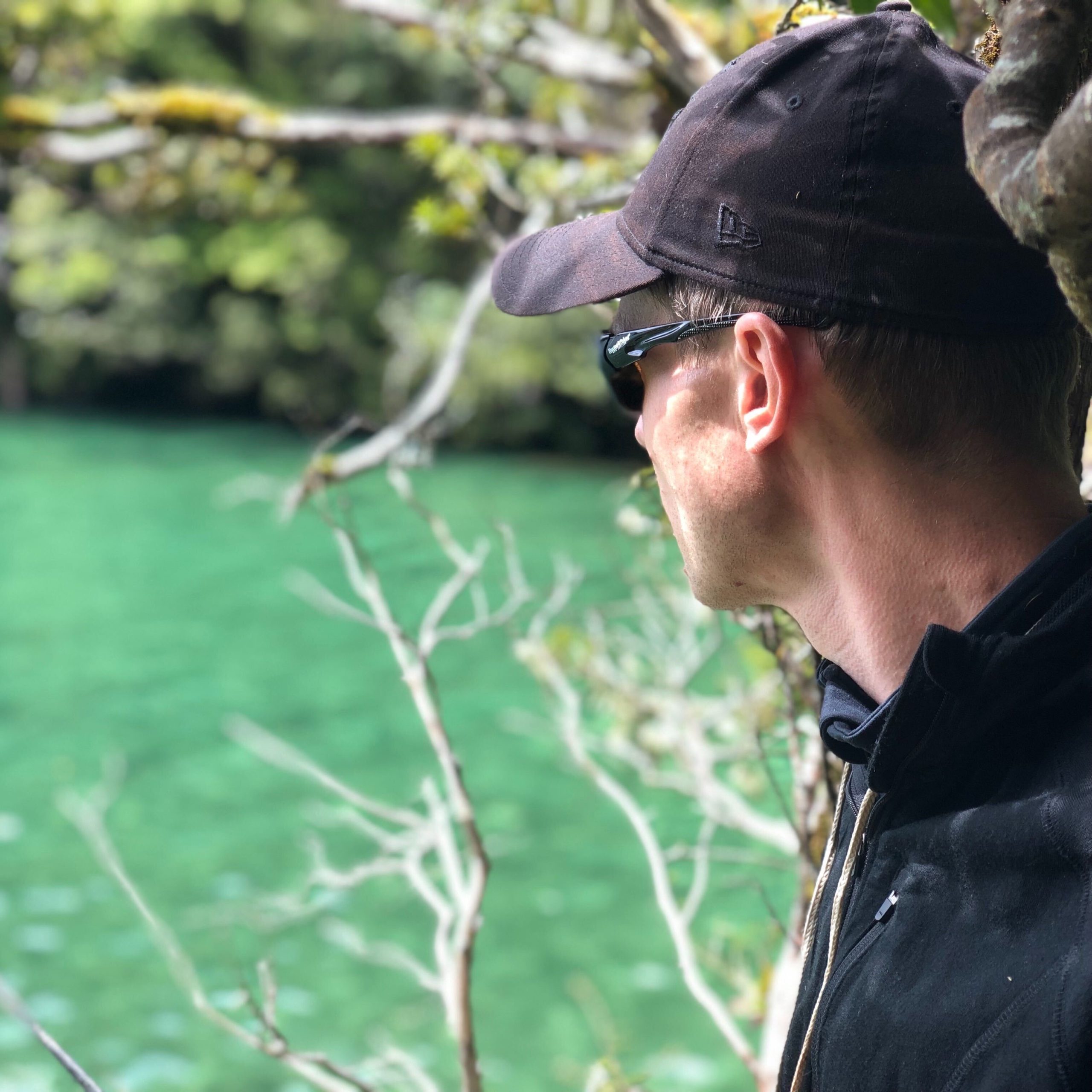 Ben Kepka
Hey, I'm Ben, a fly fisherman for over 20 years and also an aspiring blogger. Fly fishing captured my heart at a young age and have been living in and around the sport ever since. I started flyfisherpro.com to help introduce as many people into this amazing sport. Tight lines everyone!