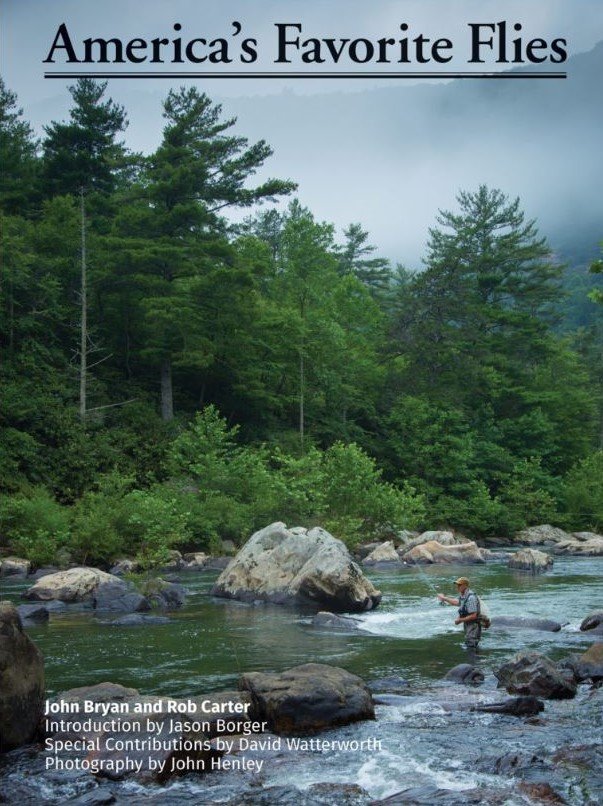 America's Favorite Flies is a stunningly beautiful, coffee table book that belongs in every fly fishermen's library.  I can't say enough how much I have enjoyed experiencing this book.  I say experiencing because I enjoy it so much more than just reading it.  The imagery of the flies, the stories by their creators, the artwork by the artists, they all seem limitless as you start here, move there and end up somewhere else completely.  The book is a joy and I can't recommend highly enough.
Here is some information from the publisher:
America's Favorite Flies features stunning photographs of the flies submitted by 224 collaborators throughout North America and the remarkable stories they have written about them. Also included are enlightening biographies of the contributors, special essays on various related topics by a group of hand-picked fly fishing and fly tying experts, and a gallery of fly fishing related art contributed by well-known and beloved artists throughout North America.
Owning this monumental volume signifies your contribution toward making waters and fisheries healthier. It is a must-have addition to the libraries of each and every fly fisher, tyer, fishing enthusiast, armchair fly fisher, and anyone else interested in knowing about the magical endeavor of fly fishing. What makes it so profoundly important is that all of the coordinators and partners are contributing their time and energies totally pro bono so that 100% of the proceeds of the book will be gifted equally to the James River Association and the Native Fish Society in their efforts to protect and sustain healthy waters and native fisheries.
Here are the book's specifications:
9 x 12 inches
656 pages
Hard cover with jacket
Sewn binding
Full color throughout
https://americasfavoriteflies.com/
ABOUT THE COORDINATORS :
John Bryan (Chief Editor) has written about fishing for Sports Illustrated, Gray's Sporting Journal, Fly Fisherman, and other publications. Among his books is Take Me Fishing (2007) for which he gathered 50 living writers who provided their writings pro bono and from which 100% of the proceeds were dedicated to healthier fisheries. Participants ranged from Howell Raines to John McPhee to Joan Wulff to President Jimmy Carter – several of whom are participating in America's Favorite Flies.
Rob Carter (Editor and Chief Designer) is author of 14 internationally published books on the subjects of typography, book design, and graphic design. Among them is Typographic Design: Form and Communication, which after more than 35 years remains one of the most influential textbooks on the subject of typography. Rob, an avid fly fisher and tyer, is designing America's Favorite Flies.
David Watterworth (Chief Instigator) has shared his fly fishing knowledge, passion, enthusiasm, and tireless grassroots efforts on behalf of America's Favorite Flies. His boundless energy and devotion have energized this project enormously.
John Henley, (Chief Photographer) for America's Favorite Flies, was introduced to photography as a student at the San Francisco Art Institute. John has earned deep respect for his personal work as well as for his work for clients ranging from Geico to Santa Fe Tourism to Yamaha to Pinehurst Resort.