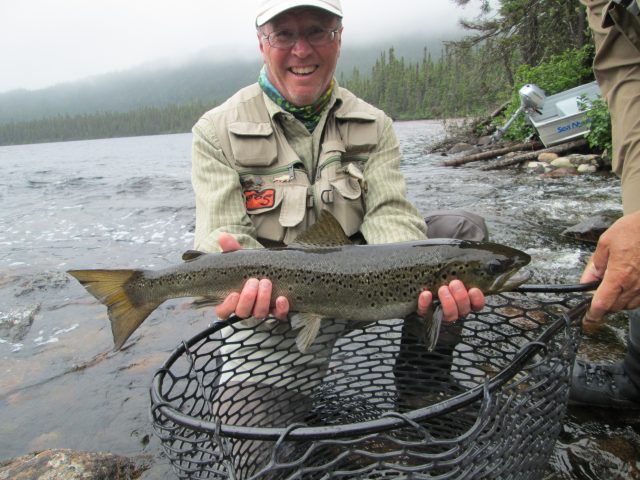 Located on Quebec's Lower North Shore, at mid-point between Anticosti Island and the Labrador border, Bohier Lake Camps means remote, pristine wilderness and a real fine fly fishing adventure. No roads or trails, and accessible only by floatplane, as a private camp, Bohier Camp receives a very limited number of anglers each year. Catch and release of all adult fish is our management moto and fly fishing is the way to go.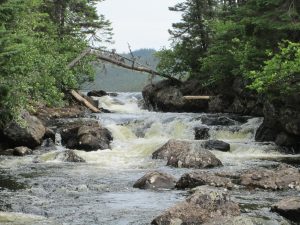 Landlocked Salmon (ouananiche) and Brook Trout are the two species present in the headwaters of the Musquaro River where we fish on our three main lakes; Grossin, Bohier and Boulet. We are also blessed with three different stretches of river for a total of over 20 pools. Last year, our gests caught the first ''two digits'' ouananiche on Bohier Lake. We will also open another Grossin River section for brook trout in 2018.
You can cast your fly from shore, from a boat or both feet in a stream. A bit like Sleeping Beauty, Bohier camps were built 20 years ago but nobody operated the camp for the last 15 years… except by us, the past 3 years. We are just starting to awaken the fishing potential of this special place…
There is a Main Lodge and 2 log camps available for our visiting members. A maximum of 6 anglers per party is the norm at Bohier. Our season runs from mid-June to mid-August and a maximum of 40 anglers are scheduled each year.
We offer 5 or 7 night stays, including round trip transport by floatplane from Natashquan to Bohier Camps, all meals, motor, boat and gas. Fly casting and fly tying instruction are also offered at no extra cost.
Clothing:
The weather is quite unpredictable on the 51st parallel.  Warm clothing, made out of synthetic fibers is recommended. Many layers is the name of the game. Long sleeve underwear, wool stockings and waders with felt or synthetic soles for river fishing.  A good quality rain coat and pants, hat, cap, polarized sunglasses and a dry bag is very practical. Sleeping bag, your pillow cover and shower towel. Insect repellant (Watkins or Muskol), sunscreen, head net for river fishing, flashlight, multi-tool and camera. We supply water, juices and soft drinks. You have to bring your own alcoholic beverages like wine, spirits or beer (in cans please).
Fishing Equipment:
For Landlocked Salmon, a fast action 9 foot rod for line 6 to 8 with a large arbor reel and at least 100 yards of backing line is a good combination. On lakes, trolling is the essence and an extra fast sinking line (Type 6) is recommended. A full floating line as well, with 6-12 foot sinking tips of different density can be very effective, depending on water levels.
For Brook Trout, a 8 ½ to 9 foot rod for line 5-6 with a standard reel and 50 yards of backing lines is suggested.  A good quality full floating line for dry fly fishing in rivers is a must.  We recommend MAXIMA CHAMELEON TIPPETS AND LEADERS; they match the tea colored waters of the area.  Spools from 6 -10 lb will do the job.
FLIES:
Bohier Lake area remains mainly unexplored. Bring your flies and give it a try.  Here is a list of patterns that did well last season (Orange was a great color at Bohier in 2017).
Dry Flies:  Wulff Series; Royal, Grizzly, White and Gray #8- #14; Elk Hair Caddis black, tan and orange #10-#16; Stimulator Orange, Black #6-#10, Adams, Humpies, Black Gnat #8-12
Nymphs: Hare's Ear, Prince, Pheasant Tail, March Brown, Hendrickson; Size #10-14
Streamers: From Size #2- #6: Woolly Bugger (Olive, Brown, Black), Grizzly Muddler, Smelt Series: Magog, Massawipi, Rainbow; Ghost Series: Orange, Gray, Red and Black; Zonker, Mickey Finn, JR Cisco, Paul et Paul, Neptune and yes… Mouse patterns size 4 & 6!!!
Tight lines!
https://www.facebook.com/campsdulacbohier